Friday, January 20th, 2012
Wildcats knock off state-ranked Tribe
Fort Recovery suffers first league loss of season
By Gary R. Rasberry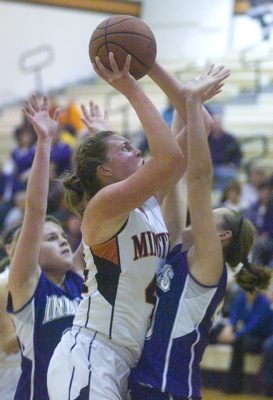 MINSTER - A strong defensive effort helped Minster give Fort Recovery its first Midwest Athletic Conference loss of the season as the Wildcats built a double-digit lead before settling for a 46-40 triumph.
The Wildcats improve to 10-2 on the season and 3-2 in the MAC while the Indians, ranked eighth in this week's Associated Press Division IV state poll, drop to 10-2 overall (4-1 MAC) with the loss. Minster's win over Fort Recovery leaves Marion Local as the lone unbeaten team in the MAC.
Kayla Wuebker scored eight of Minster's 11 first-quarter points on a 4-of-6 shooting effort that had the Wildcats up 11-9 after the opening eight minutes. Both teams had struggles getting the offense going, as the Indians turned it over 13 times in the opening quarter and Minster gave it up eight times.
"Kayla brought a lot of energy the first quarter," said Minster's head coach Nann Stechschulte. "It kind of set the tone. One of the things that we needed to do is take care of the ball. Not sure how well we did that (Minster only had three turnovers combined in the second and third quarters and finished with 19).
"We needed to knock some (shots) down early. We haven't always done that. I think (Wuebker) settled us in offensively."
Minster pushed its lead to 21-11 with 4 1/2 minutes to play in the first half after an 8-0 run.
Fort Recovery's coach Doug Bihn was not happy with his team committing 18 turnovers in the first half (Indians finished with 28 turnovers).
"You turn the ball over 25 times (by his stats), you don't deserve to win," said Bihn. "Simple as that."
The teams played fairly even in the second half, but Minster was able to work the ball to center Tara Clune as the Indians collapsed their defense on Wuebker and the rest of the Wildcats' outside shooters. Clune had six of her 12 points in the third quarter.
Fort Recovery's leading scorer Kylie Kahlig, who came into Thursday averaging 13.8 points per game, was shut down by the Wildcats. Kahlig was just 1-of-7 from the field and finished with just two points.
"We wanted to keep (Olivia Schwieterman) from getting her feet set (to shoot). She did end up with two threes," said Stechschulte. "Then we wanted to contain Kahlig. Defensively, that was three girls' job (Sara Dahlinghaus, Samantha Hoelscher and Natalie Fausey), and they did a good job.
"It wasn't a pretty game. It never is when these two teams play," continued Stechschulte. "We both are pretty intense on defense. Last couple years, it's been a pretty interesting game."
"We came in tonight and thought we had to contest every shot," said Bihn. "We didn't do that. We had mental breakdowns defensively. If we don't clean that up, we don't deserve to win."
Wuebker paced the Wildcats with 14 points to lead all scorers.
Kelly Nietfeld scored 12 to lead Fort Recovery while Olivia Schwieterman added 10 points.
The Wildcats have another big game on Saturday, as the state's top-ranked team in Division IV, Ottoville, comes to Minster for an afternoon game. Fort Recovery travels to Shelby County on Saturday for a matchup with Fort Loramie.