Saturday, January 21st, 2012
Grand Lake flotilla chartered
Volunteer members of the U.S. Coast Guard Auxiliary aim to make lake safer
By Nancy Allen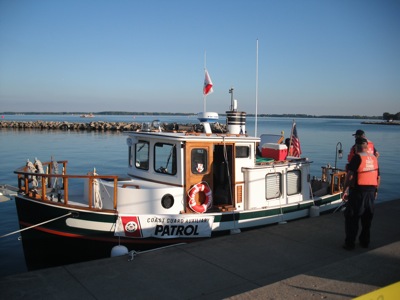 GRAND LAKE - Ohio's largest inland lake just got a little safer.
The Grand Lake St. Marys flotilla of the U.S. Coast Guard Auxiliary was officially chartered Friday during a ceremony at Celina Moose Lodge.
The flotilla had been operating as a detachment of the Indian Lake flotilla and could not become a full-fledged flotilla until it had 15 members. The group now has 17.
"It's really exciting to get some help here on Grand Lake St. Marys," Roger Norcross, chief of the Ohio Division of Watercraft, said. "The auxiliary helps us do patrols and education; we pledge our entire support of our division to the auxiliary."
Norcross said boater education is key to safety on the water. One of the main functions of the Grand Lake flotilla is to conduct boater education courses and vessel checks.
Ohio is ninth in the nation for boating with 426,000 registered watercraft. One in four Ohioans goes boating contributing a $3.5 billion economic impact to the state, Norcross said.
Bill McGonigal, national vice commander, told Grand Lake flotilla members there are more ways to serve the lake other than on the water, including organizing events and leading membership drive.
The all-volunteer U.S. Coast Guard auxiliary has 35,000 members nationwide, he said.
McGonigal noted that when U.S. Coast Guard members were called to help with catastrophes such as hurricane Katrina and the recent BP oil release in the Gulf, many U.S. Coast Guard auxiliary members filled those vacancies and continue to do so.
"Your flotilla will do well because there are lots of people who will help you," McGonigal said.
Celina Mayor Jeff Hazel read a proclamation congratulating the flotilla on becoming chartered, adding it will help make the lake safer.
"This is an occasion I've been waiting for for a long time," Grand Lake flotilla commander Larry Baker said.
A flotilla's mission is to assist boaters in distress, perform free vessel examinations and conduct boater education classes. The local flotilla will help patrol the 13,500-acre Grand Lake during fireworks events, the Governor's Cup Regatta and other water events.
Members who use their own boats are reimbursed for fuel and receive a small maintenance stipend. Volunteers furnish their own uniforms
Membership is open to any U.S. citizen who is at least 17 years old and can pass a basic background check. Members can serve as little or as much time as they want. Members do not have the authority to issue citations to or arrest individuals.
Baker said he's glad to have enough members to be chartered, but having 25 would be better. Anyone interested in joining should contact Baker at 419-268-1141 or 800-289-4527.

Grand Lake members:
Larry Baker, Celina; Paul Joseph, Lima; Brad Counts, St. Marys; Phil Clem, Lakeview; James Flannery, Lima; Randy Gasser, Fort Jennings; Daniel Johnson, Middlepoint; Wilhelmina Klosterman, Celina; Deny Knapschaefer, Coldwater; Jeff Marcum, Celina; Kevin Mast, Celina; Michael Shelby, St. Marys; Kyle Taylor, St. Marys; Randy Taylor, St. Marys; Charles Webster, Celina; Dan Beck, Lima; and David Beck, Lima.