Saturday, January 28th, 2012
Minster discovers its offense in second half
By Mark Ruschau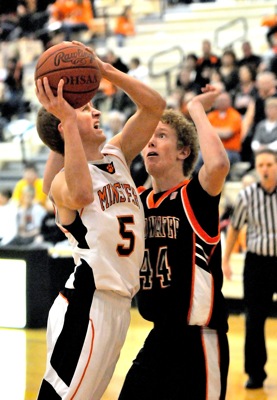 MINSTER - The Minster Wildcats have struggled offensively this season, and as a result, they have had a small margin for error.
On Friday night the Wildcats combined a stout defensive effort and a solid second half of offense to defeat the Coldwater Cavaliers 45-34 in Midwest Athletic Conference action at the Minster Middle School.
Minster is now 6-7 overall and 3-2 in the MAC while Coldwater falls to 4-8 on the year and 1-4 in conference play.
Coldwater made just nine field goals in a win over Greenville last Saturday and Minster's defense held the Cavaliers to just 13-of-43 from the floor, including just 3-of-13 from three-point range. Coldwater's shooting woes were extended to the free-throw line as the Cavs converted on just 5-of-14.
"We addressed all week that we were not pleased that we faced two teams last week, Anna and Fort Recovery, that were very good and very hot. We have such a small margin for error that we cannot give up the kind of numbers we gave up last week," said Minster's coach Mike Lee. "We stressed this to the kids all week and they carried it over from practice to the game tonight. It was just a solid defensive effort."
"If I had the answer, I would bottle it and become a millionaire," said Coldwater's coach Mike Bruns in regard to his teams' shooting woes. "I think a lot of it is a confidence factor. It is tough for anybody to play hard in other facets of the game when you are struggling offensively. It is definitely a confidence issue, because I know they are better shooters."
It was a struggle for Minster's offense for most of the first half but the Wildcats got things going offensively late in the first half as Austin Knapke found Brandon Hoying for a basket as the Wildcats took a 17-12 lead into halftime.
Minster rolled the momentum of its late first-half basket into one of its best offensive halves of the season. The Wildcats scored 28 points in the second half on 10-of-19 shooting from the field.
The Wildcats' offense featured a nice balance of inside and outside as they got 25 points from frontcourt players and 20 more from the backcourt.
"I just thought that it was imperative that we come out in the second half and remain solid on the defensive end and we just started to attack offensively," said Lee. "We got very good guard play. They were aggressive going to the rim and then they got our bigs involved."
Adam Niemeyer led the way for the Wildcats with 11 points while Devon Poeppelman added eight points and a team-high seven rebounds.
Austin Bruns had a solid night for Coldwater as he tossed in a game-high 17 points and grabbed a game-high nine rebounds.
Minster is on the road tonight with a matchup against Wapakoneta while Coldwater travels to the Fieldhouse tonight to take on the Celina Bulldogs.