Saturday, February 4th, 2012
Get over: Legislation would prevent driving in left lane
By Shelley Grieshop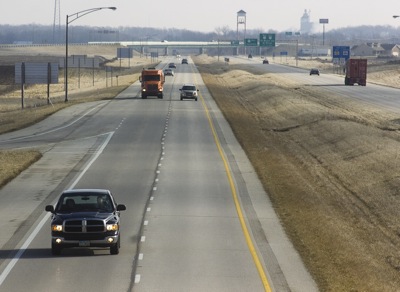 A proposed law to prevent freeway drivers from dawdling in the left lane raises concerns for law enforcement.
House Bill 395 would prevent all vehicles on four-lane highways from traveling in the left-hand lane unless they are passing another vehicle, exiting the freeway, allowing others to enter on the right or maneuvering for safety. The goal is to remove slower drivers from the left lane so faster vehicles aren't forced to pass them on the right.
If passed, the bill also raises the speed limit to 70 mph on all interstates in Ohio.
Lt. Scott Carrico, commander of the Ohio State Highway Patrol post in Wapakoneta, said the left-lane restrictions are likely to confuse motorists and law enforcement.
"We tell them (drivers) to move over into that lane to make room for public safety vehicles" and in other situations, he said. "I'm not sure how troopers will know what's an actual violation."
Carrico said it would be difficult to identify offenders.
"We're not going to just drive up the road, see someone in the left lane and give them a ticket," he said.
The law would affect motorists traveling the 5-mile stretch of state Route 29 east of Celina in Mercer County and nearly 30 miles of U.S. 33 and Interstate 75 in Auglaize County.
A violation would be a minor misdemeanor on first offense. If a driver is caught more than once per year, the offense would increase to a third- or fourth-degree misdemeanor and may include jail time.
The bill was introduced by state Rep. Ron Maag, R-Lebanon, on Dec. 13, and a first hearing was conducted at the State House on Jan. 13.
Lt. Anne Ralston, spokeswoman for the Ohio State Highway Patrol in Columbus, said keeping the left lane clear isn't realistic in many areas across the state.
"It would be almost impossible to clear that lane and maintain traffic flow in many metropolitan areas," she said.
She was optimistic more details will be "hammered out" if the bill becomes law.
"Once it becomes law, when it goes on the books, we'll do our part to educate the public and we'll certainly enforce it," she said.
The speed limit increase in the legislation would be for all vehicles traveling on interstate freeways in Ohio. Maag and other supporters argue the change is necessary for consistency. The speed limit on the Ohio Turnpike and freeways in neighboring states of Kentucky, Indiana and West Virginia is 70 mph.
Freeway speed limits across Ohio now vary from 55 mph to 65 mph.