Monday, February 20th, 2012
Rising fuel prices may impact travel
Local families consider closer-to-home vacation sites
By Margie Wuebker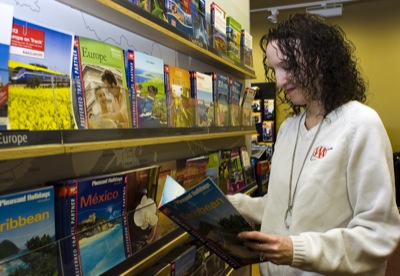 This is the time of year when families often begin to think about vacations - perhaps a visit to the beach, an amusement park or an historic landmark.
With gas prices predicted to inch upward in coming weeks and airlines already raising ticket prices, that long-awaited vacation could wind up costing a lot more.
AAA in Ohio reports gas prices went up more than a dime in the past week with additional increases anticipated. The state's average price for regular gas hovers at $3.45 per gallon. Drivers were paying an average of $3.10 a year ago.
Some experts believe gas will increase to $4-$5 a gallon as oil supplies from the Middle East slow due to concern over Iran's nuclear program.
"Prices will be an issue this year whether you are driving or flying," Celina AAA travel consultant Jane Mustard said. "Many families still plan to vacation, but their trips may be scaled back a bit."
Mustard added the planning stage is just beginning for many people. Those not thwarted by gas or airline prices are requesting information regarding New York, Las Vegas, Disney World and national parks such as Yellowstone, the Rocky Mountains, Yosemite, the Tetons and the Badlands.
"Disney World is a popular destination anytime school is out," she added. "Some people save all year in order to take one big vacation or several smaller ones."
Mustard has seen some families scale back their customary two-week trip to seven or 10 days while others select closer places.
Roy and Angie Mescher of Maria Stein will be taking their daughters to Silver Lake, Mich., instead of Myrtle Beach.
"The girls wanted to go to the beach, but we didn't want to drive 10 or 12 hours," she said. "We heard good things about Silver Lake from people who have gone there, and it's only four or five hours away."
In addition to enjoying a cabin for the week, there are plenty of attractions like sand dunes, beaches and even a historic district.
Area travel agents also have fielded requests for information about indoor and outdoor water parks throughout the Buckeye State. Ohio also is home to zoos as well as amusement parks such as Cedar Point and Kings Island.
Many families enjoy vacations at home so fuel prices have little impact.
Susan and Jeff Howe of St. Henry do not embark on extended vacations due to work schedules. Neither of them grew up in families that made jaunts across the country and their own children do not expect long trips.
"The kids enjoy going to the St. Henry Pool," she said. "And there is the community picnic to look forward to."