Monday, February 20th, 2012
Ottoville tops Minster to cap perfect regular season
By Robb Hemmelgarn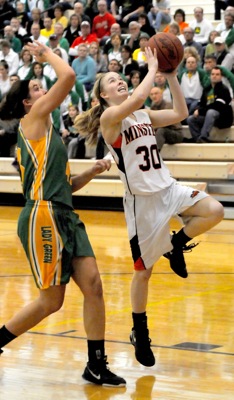 MINSTER - It has been a brutal last month of the regular season for Nann Stechschulte and her Minster Wildcats as they have faced state-ranked teams in four of last five games, including the number-one teams in Division III and IV each of the past two Saturdays.
On Saturday, the Ottoville Big Green - the number-one team in Division IV - invaded Minster Middle School and left with a 43-36 victory to put the finishing touches on a 20-0 regular season.
"We come down here for great basketball competition and that was what it was again for us today," commented Ottoville's head coach Dave Kleman. "We have a very good rivalry with Minster and this series has a solid history. I would say in close to the 20 or so times we have met, our games have been split. It is nice to get the win today against a strong team on their home floor."
In the opening minutes, Minster (14-6) jumped in front 5-0 after a bucket from Sara Dahlinghaus and a three-pointer by Kayla Wuebker.
Minster led throughout most of the opening eight minutes, although Ottoville grabbed a 12-11 lead going into the second quarter after scoring the last two baskets of the opening quarter.
While Minster's pesky defense seemingly hampered Ottoville from enjoying any sort of offensive rhythm, the Big Green managed to bully past the home team in the second quarter when they canned six straight points to move in front by five points.
Minster's senior Tara Clune stopped the bleeding with a six-foot jumper, but All-Ohioan Abby Siefker responded with two of her game-high 20 points and picked up the foul and free throw in the process.
Another long ball by Wuebker cut Minster's deficit to three at 20-17 just before halftime, but Siefker was unfazed and tallied the half's last four points.
With Ottoville's lead still at three points, Siefker and company quickly went on a 6-2 run to build their biggest lead of the day at 34-25.
The Wildcats' Bridget Geiger canned a pair of free throws and hit a jump shot as Minster clawed back to within five points but Ottoville's Megan Bendele answered with a pair of charity tosses which gave her team a seven-point lead at the end of the third period.
"We came out in the second quarter with a lot of fire and were attacking well. We were five points ahead and then all of a sudden we were down by six," Stechschulte pointed out. "I think we stopped attacking during that little spurt and we can't do that against a good team or it will come back to hurt us like it did today."
The Wildcats got back to within five points in the opening seconds of the fourth quarter when Geiger hit another jumper, but they failed to score again until there was less than 30 seconds remaining in the contest. Although the Big Green never hit a field goal in the final stanza, Minster couldn't keep them off the free-throw line as the Big Green drained seven free throws en route to the seven-point win.
"We had plenty of opportunities throughout the game, especially in the end, but we didn't take advantage of them," Stechschulte pointed out. "Despite the second quarter swing in momentum and the free-throw situation overall, we were right there. If we are able to make a lay up here or a bunny shot there in the last quarter, it could have been a different situation in the end. We need to capitalize on our opportunities."
The Wildcats were paced in the scoring column by Geiger with 12 points while Clune contributed 11 points.
Siefker led the unbeaten Big Green with 20 points and 16 rebounds while Tonya Kaufman added seven points off of the bench.
The Wildcats open the tournament on Saturday in Coldwater.
"We were just talking in the locker room that our schedule really prepares us to face anyone in the tournament," Stechschulte concluded. "We played a lot of very good teams this season and even in our losses we were right there in every one of them. Now we just need to go out and get it done."