Wednesday, February 22nd, 2012
Favorites earn tourney victories: Fort Recovery edges St. Henry; Rangers roll over the Cardinals
Division IV Sectional at Coldwater
By Randy Bruns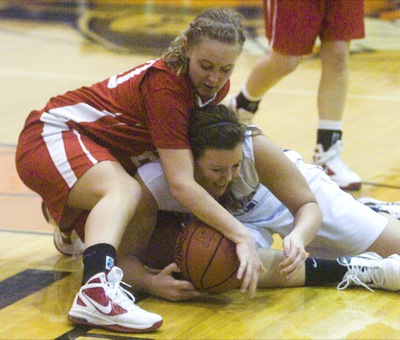 COLDWATER - The Division IV sectional girls' basketball tournament was moved to Coldwater this year, but for one game anyway, the intensity was hot and heavy just like normal.
The St. Henry Redskins and Fort Recovery Indians started the night with a classic battle that wasn't decided until the final seconds. The Indians got a pair of big three-pointers from an unlikely candidate late in the game to hold off the Redskins by a score of 49-48.
The nightcap wasn't nearly as close as the New Knoxville Rangers took control from the start and cruised to a 51-32 victory over the New Bremen Cardinals.
Both winners advance to Saturday's sectional finals at The Palace. Fort Recovery (15-6) will face the Minster Wildcats (14-6) in the opener at 6:15 p.m., while New Knoxville (18-3) takes on the top-seeded Marion Local Flyers (17-3) in the nightcap.

Fort Recovery 49, St. Henry 48
When these two teams met just three weeks ago in their regular-season matchup, the Redskins gave the Indians a good run but lost a 59-50 decision.
This time the end result was the same but the underdog Redskins made the Indians sweat it out even more.
In a game that saw the score knotted nine times and the lead change hands on 13 occasions, a couple of nicely-timed three-point bombs made all the difference.
With the fourth quarter halfway over and the Redskins holding onto a four-point lead - their largest since the game's opening minutes - Fort Recovery's Janelle Schwieterman drained a deep three to bring the Indians back to within one point at 38-37.
Just 90 seconds later, Fort Recovery was still down by two points but Schwieterman hoisted up another bomb from three-point range that caught the glass perfectly and fell through the hoop.
"They were a huge boost for us, definitely," admitted Fort Recovery's coach Doug Bihn about Schwieterman's big shots. "She hasn't shot the ball well for us all season, but we said all year that she's a shooter and tonight she made two big ones. They were huge."
The Purple and White finally had the lead back, but it had to work down the stretch to keep it.
On three separate occasions the Indians stretched their advantage to three points but each time the Redskins countered with a bucket to claw back within one. The last time came when Kelly Siefring scored in the lane to make the score 49-48, but only seven and a half seconds remained on the clock.
St. Henry needed to foul, but couldn't do so quickly enough, so Kelly Nietfeld went to the line with just one and a half seconds left on the clock. Nietfeld misfired on both free throws and with time running out, St. Henry's Taylor Clune could only manage a fullcourt heave that missed the mark as Fort Recovery escaped with a hard-earned win.
St. Henry's coach Jeff Roessner was a little more succinct, pointing specifically to Schwieterman's second trey as the decisive factor.
"To tell you the truth, I thought it came down to a three that banked in," sighed Roessner. "That was the difference in the ballgame. I don't think we would defend that any differently. I thought our pressure bothered them all night long and we made big shot after big shot when we had to make them. We just didn't execute right there at the end."
Fort Recovery managed to emerge victorious despite making six fewer field goals than St. Henry. The difference was at the charity stripe, where the Indians cashed in 22 times to just 10 for the Redskins.
The Indians got a stellar performance from Nietfeld, who went 6-for-7 from the field and scored 14 points despite limited playing time because of foul trouble. She was joined in double digits by Chelsea Pottkotter, who scored all 10 of her points from the foul line.
The Redskins were led by Stacy Lange, who scored 13 points, and Ashley Heitkamp, who tossed in 10.
The Indians will now turn their attention to the Minster Wildcats, who defeated them by just six points in their Midwest Athletic Conference matchup a month ago.
"We didn't play real well in that game, but Minster had something to do with that," said Bihn. "Hopefully we can give them a better look this time."
New Knoxville 51, New Bremen 32
Tuesday's 19-point victory by the Rangers doesn't appear to be much different than the 20-point decision in the teams' regular-season game, but the Cardinals certainly turned in a better performance despite the score.
In the end, though, New Knoxville won with a quick start and a steady parade to the foul line.
The Rangers connected on their first four shots and ended the first quarter with a sizzling 7-for-10 performance from the field as New Knoxville grabbed a 14-4 lead going into the second frame.
The lead ballooned to as high as 14 points before New Bremen's Meagan Brandt hit a pair of three-pointers to draw the Cardinals back to within 10 points.
Both teams found their offensive stroke in the third quarter as they combined to make 14 of 23 shots for a dazzling 61-percent clip. Unfortunately for New Bremen, New Knoxville clamped down on defense for a four-minute stretch and went on an 11-2 run that built its lead up to 20 at 41-21.
"We were on our toes and ready to play basketball," said New Knoxville's coach Tim Hegemier of his squad's quick start. "Once we got that 10- or 12-point lead I think they just relaxed a little bit, but give New Bremen credit because every open shot we gave them, they put it in. We didn't give them very many looks but the looks that they got were wide open and they put them in."
The Rangers did a lot of their damage from the foul line, as they made 20 trips to the charity stripe and connected on 15. By comparison, the Cardinals made just one of the three free throws they attempted.
New Bremen's coach Randy Eckert was heartened by his team's shooting performance, but he knew they weren't going to win with New Knoxville going to the line as much as it did.
"They were at the foul line a lot more than us," said Eckert. "You can't give up 14 points like that, and that was the difference in the ballgame. We just got lazy at times on defense and fouled them to put them on the line. I'm disappointed that our season is over, but I'm happy with the way we played. We were pretty much outmanned height-wise, but we didn't give up."
Tiana Heidt paced the Rangers with 13 points and Paige Lehman added 12 while Brandt led the Cardinals with nine points.
The last time New Knoxville played Marion Local was early in the year, and the Rangers were within four and had the ball late in the game, but ended up losing by 10 points.
"We've got a big game coming up on Saturday," said Hegemier. "The last game was closer than the score indicated and I think some of our young girls have gotten a little better since then. Hopefully we can give them a good game and pull one out."