Saturday, February 25th, 2012
MAC Champions
Fort Recovery earns outright crown
By Gary R. Rasberry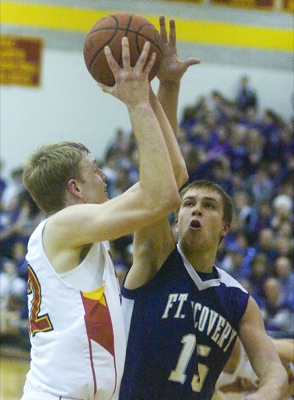 NEW BREMEN - The last time Fort Recovery visited New Bremen looking for an outright Midwest Athletic Conference crown, the Cardinals played spoiler and forced the Indians to share the MAC title.
On Friday night, Fort Recovery clinched the outright MAC championship at Cardinal Gymnasium with a 62-56 win over New Bremen.
It's the fourth MAC title in school history for Fort Recovery (18-2, 8-1 MAC) and the first outright crown since the 1998-99 season.
"Obviously, it's nice anytime you can win this conference," said Fort Recovery's head coach Brian Patch. "It's a special conference. It's actually harder, I think, to win this than to make a tournament run. You have to play these guys nine times and every night you have to be prepared.
"As happy as we are, we understand our work's not done," continued Patch. "We come back next Friday for a tournament game. We're going to play another MAC foe (the winner of Tuesday's Minster-New Knoxville contest at Coldwater). This concludes the (regular) season and it's great to conclude it this way, but the 20 games are done and now the fun begins."
The game was physical and the Cardinals' defense worked hard to contain the MAC's leading scorer Wade Gelhaus, who struggled early in scoring just four points in the first half on 2-of-10 shooting.
"I thought Elliot (Westerbeck) did a good job on Gelhaus most of the night," said New Bremen's coach Adam Dougherty. "Made him work for the stuff he got. He got a lot of things around the rim. He got five field goals (5-of-14 from the field) and played all 32 minutes. Guy who comes in getting 19 (points) a night, that's about all you can ask for."
New Bremen's focus on Gelhaus opened lanes for the Indians' Jared Kahlig. The lanky Fort Recovery senior picked up the slack with Gelhaus under wraps, scoring seven of his 12 first-half points in the second quarter as the Indians took a 28-19 lead at halftime.
"Jared didn't know if he was going to play tonight," said Patch. "He hurt his knee in practice and didn't practice a day. For him to come out here and step it up in this situation, he's a gamer tonight. Did a great job. For him to be hurt and come out and play like he did, that's a great job on his part."
Fort Recovery went up by as much as 15 points at 47-32 late in the third quarter, but the Cardinals kept chipping away and pulled to as close as 49-42 with 5 1/2 minutes left in the game. However, Gelhaus went 6-of-6 from the foul line in the final quarter to keep New Bremen at bay.
"They fought back, made some plays and made it tough on us," said Patch. "Our kids were able to respond and hang on for a good win."
"I thought they were a little more physical than we were tonight," said Doughtery. "They have some real nice players. We didn't play as physical early as we needed to. It's back and forth. They get a couple tough plays, a couple loose balls we don't get. I don't think we responded early to how physical the game was going to be. That was a big difference tonight."
Jared Kahlig finished with 22 points to lead the Indians. Gelhaus scored 16 points and pulled down 15 rebounds while Elijah Kahlig scored 10 points.
Westerbeck scored 12 points to lead the Cardinals (12-8, 4-5 MAC) while Aaron Clune chipped in 11 points.