Friday, February 3rd, 2012
St. Marys knocks off Celina
By Gary R. Rasberry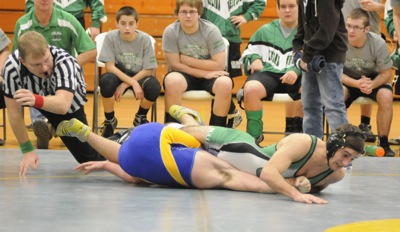 BATH TOWNSHIP - With the Western Buckeye League wrestling tournament coming up next week, Celina and St. Marys looked to wrap up the regular season on a positive note as both teams went to Bath High School for a super trimatch featuring the Wildcats and Shawnee.
Both the MatDogs and Roughriders had tough losses in their opening bouts. Celina jumped in front early on Shawnee before the Indians rallied to win the match 41-33. St. Marys also started out strong only to have the host Wildcats come back and earn the win in the final bout for a 36-34 triumph.
The second round of matches featured rivals Celina and St. Marys and the Roughriders garnered a 37-32 win to finish the WBL regular season with a 6-3 record in dual matches. Celina finishes the WBL's regular season with a record of 4-5. Bath had another down-to-the-wire match with LimaLand rival Shawnee, winning in the final bout of the night for a 39-34 win to finish 8-1 in league play.
St. Marys started out strong against Celina, with Collin Reier (170 pounds) and Neil Perry (182 pounds) getting pinfall wins. The MatDogs came back quickly as Kevin Lockwood picked up a win via a pin at 195 pounds before Trey Hecht (major decision at 220) and Brandon Newland (won by decision at 285) also notched victories.
The Roughriders responded with four straight wins, three coming by pinfall as Kaleb Chaney (106), Austin Quellhorst (120) and Corey Rhinock (126) each earned six points to push the Roughriders in front 34-13 with five matches remaining.
Celina staged a major rally. Cory Guingrich (132) and Andy Garwood (138) started the Bulldogs' rally with pinfall wins. The Bulldogs' Chad Braun (145) followed with a major decision victory and Zach Senger scored a win by decision to pull Celina to within two points at 34-32. Celina needing just a win by decision to win the match but St. Marys' Ryan Slife stopped the Bulldogs' momentum by scoring a win by decision at 160 pounds as the Roughriders walked away with the win.
Both coaches felt things could have been a lot better.
"They were really contested matches," said Celina's coach Dave Hucke. "I really don't have a lot to say. I was hoping for a little better. I know we're in a tough wrestling league. I was hoping we could at least finish above .500."
"We knew both of them were going to be tough," said St. Marys' coach Larry Gruber of the competition on Thursday. "For anybody who has to lose a match like that (the last-bout loss to Bath), it's kind of heartbreaking. It could have gone either way easily.
"We need to get people in the weight classes they need to be (in)," continued Gruber. "We've had sicknesses, we've had people in weight classes they're not going to be in next week (at the WBL meet). ... We just have to go out and keep kids working at it."
The Bulldogs and Roughriders will be in action again on Saturday in different invitationals. Celina hosts the annual Lions Invitational at the Fieldhouse starting at 9:30 a.m. while St. Marys travels to Rossford for an invitational.