Tuesday, March 13th, 2012
Through the Lens
Farm Bureau, photo club unite to show life on Mercer County farms
By Nancy Allen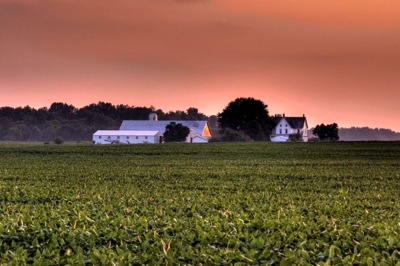 CARTHAGENA - A gnarled fence post.
Pine trees and alpacas.
A farmer's weathered hand digging in the soil to check his sprouting crop.
These and other images of Mercer County farm life will be on display to the public Friday through Sunday at St. Charles Center during an exhibit sponsored by the Farm Bureau and Grand Lake Photography Club.
Through the Lens is a compilation of about 200 photos taken by photo club members at 10 farms.
"There is a lot of beauty in what we do that we don't necessarily see because we are trying to get work done," Farm Bureau spokeswoman and event chairwoman Jill Smith said. "These photos capture that in every day life."
The photos will be displayed on walls and easels throughout the gym. A 15-minute scrolling video of photos also will be played.
Organizers tried to show the diversity of agriculture in the county, which consistently ranks No. 1 in the state for agriculture income. Smith said they wanted to show true depictions of farm life today.
"There are some misconceptions of what farm life involves and also some disconnect from being removed two or three generations from the farm," she said. "We wanted to bring what goes on every day into focus."
About $6,000 donated by Farm Bureau members and local businesses was used to pay for the exhibit. A local business that wished to remain anonymous paid to have the photos copied and enlarged, Smith said. The show has taken a year to plan.
"The photos I really enjoy had the people involved," event co-chair and Farm Bureau member Lisa Dues said. "They took pictures of every day things … like a barn or a corner fence post going down an old path traveled many times that I think a lot of people can relate to."
The event also is meant to be educational and will be sprinkled with county farm statistics, Dues said. Photography displays will be broken down into historical, farm life, youth, niche, agribusiness, scenic and farm focus categories.
Local farmers whose operations are the subject of the photos and other ag officials will be there to speak with guests. Some of the photographers also plan to attend.
Photography club president Pat Agler said about 15 club members provided the photos. The majority of the photographers do not farm and relied on relatives and friends for subject matter, while others were paired with farmers.
"One of my favorites is four guys in a cornfield, a three generations' shot of the family members," Agler said.
Agler, who helped on his grandparents' and an uncle's farm when he was a kid, said he learned a lot about farm life helping organize the exhibit. Aspects of the photos he believes will surprise non-farmers the most are of how much work is involved and the fact that most livestock is housed inside buildings.
Smith said at this point organizers are treating the exhibit as a one-time event but may consider a repeat in the future.

Exhibit:
What: Photography exhibit of Mercer County farm life.
When: Friday, 7-9 p.m., Saturday, 1-7 p.m. and Sunday, 1-5 p.m.
Where: St. Charles Center, Carthagena
Admission: Free