Friday, March 23rd, 2012
A new beginning
Good schools, work, safety of the area attract Marshall Islands residents to Mercer County
By William Kincaid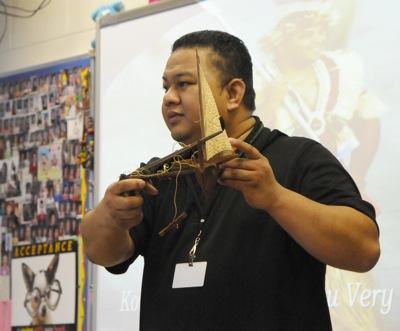 CELINA - Many Marshall Islands natives have found a new home here due to the attractive amenities of good schools, employment opportunities, safe atmosphere and relatively low costs of living.
"And they're not just here in Celina," Sandy Kaup, an English tutor at Celina City Schools, said. "There are a lot of families in Coldwater now, too, that have just come this year."
Word of the area is spreading in the Marshall Islands and more families are on their way here.
"The main reason is because they feel safe," Kaup said.
Marshall Islands native Francis John, who lives in Celina with his family and works in the electronics department at Walmart, spoke with Celina Intermediate School sixth-graders Thursday afternoon.
John told the students the minimum wage in the Marshall Islands is only $2.50 an hour. Anyone making $5 an hour is considered well-off.
"So that's why people are coming," he said.
Thirty-eight students from the Marshall Islands are enrolled at Celina City Schools.
"Many of these kids are sent here without their parents to live with relatives, and from what I've gathered thus far, their dream is the search for education," teacher Carol Hone said. "They value our school system highly, and the kids work diligently to learn the language, customs and culture."
Kaup said many of the families establish themselves by finding jobs and saving their money.
"These families that are here still have children back in the islands," she said. "They bring them (here) one at a time as they can afford it."
Kaup said she knows many of the islanders work at local factories and plants such as Minster Machine, AAP, Basic Grain and Setex.
"A lot of them start at Cooper Farms in Fort Recovery," she said.
Some of the islanders in the area didn't know each other until they ended up here.
"Everybody thinks that they're related, but only a couple of families are related," Kaup said.
The Marshall Islands have a special agreement with the U.S., where islanders can come to the country freely with a passport to work and live as long as they want. They can't vote unless they become official citizens.
The U.S. also provides protection for the islands. That relationship came about because the U.S. military tested more than 100 atomic bombs on the Marshall Islands, which caused much sickness as winds near test sites spread contaminants to populated areas, John said.
Kaup, who tutors the Marshall Island children in English, said many of them speak some English, but their proficiency varies depending on whether they went to public or private schools back home.
"This job literally fell in my lap, and I knew right away that this was my second calling," said Kaup, who previously taught first-graders for 31 years. "I have gotten to know many of the families very well through home visits."
Kaup conducts an English reading level assessment on each student and works from there.
"It's easier to communicate in person," she said about talking with the children's parents.
If the parents have difficulty understanding, often their teenage children help out until they have a better grasp of the language, she said.
Celina students are beginning to appreciate all the things and opportunities that they have in America from the addition of the Marshallese students, Kaup said.
"I think our children are benefitting because they're starting to realize there's a bigger world out there," she said.

American dream realized:
CELINA - Francis John journeyed from the tropical, coral reef-lined shores of the Marshall Islands in the Pacific Ocean to the U.S. in 1993 looking for the American Dream.
That dream has largely been realized; John attended high school in New York, earned a college degree in communications and now works and lives in Celina with his wife, Sadako, and three children.
Celina is a nice, peaceful community - much safer and quieter than New York - with an excellent school system, John said.
"It's unbelievable," he said about the quality of education provided at Celina schools.
John and another boy left the Marshall Islands with a priest who was taking over a Jesuit school in the states.
"It was a crucial decision," he said, adding he had no family or friends in the new country at that time.
After visiting relatives in Ohio and seeing the local area, John moved here.
"This is paradise," he said.
However, life is much different in the states, especially the hustle-and-bustle of daily activities.
In the Marshall Islands, everything is relaxed, John said.
"You don't have to worry about time," he said, explaining islanders usually show up to appointments and gather with friends a few hours after the established meeting time.
Strict adherence to time schedules in America has taken some adjustment, John said.
"So we're working on that," he added.
Also, in the Marshall Islands, people heavily celebrate three events - the first birthday of a child, weddings and death.
"Back home, we live together," he said, adding typical households have 15 people, including uncles, aunts, children, parents and grandparents. "We all like to take care of each other."
John said he was saddened to learn about American nursing homes.
"It hits me deeply to understand that closeness is not there," he said.
Islanders believe that they should take care of their parents and grandparents when they get older, just as those people took care of them when they were young.
"That's our culture. That's our tradition," he said.
John's mother now lives with him after the death of her husband. She longs for the fresh fish of the Marshall Islands - an exotic commodity in the states for which John sometimes searches for in Cincinnati, he said.
The islands, with a population of about 50,000 people, experience average daily temperatures of 80 degrees, and travel between the islands is by canoe. Tropical storms are rare, though the islands are subject to typhoons that people have difficulty finding shelter from because the land is flat.
John believes the islands likely will be submerged under the sea someday because of global warming.
He told the Celina sixth-graders they are blessed to have so many opportunities and items in America. Many in other countries are not so fortunate, he said.
American items and devices such as computers, cellphones and other gadgets are available in the Marshall Islands but come with a hyper-inflated price tag, John said.
The Celina schools have updated facilities and computers, he pointed out.
People are nowhere without education, he told the students.

- William Kincaid