Friday, March 23rd, 2012
Lake Campus baseball team makes debut Sunday
By Gary R. Rasberry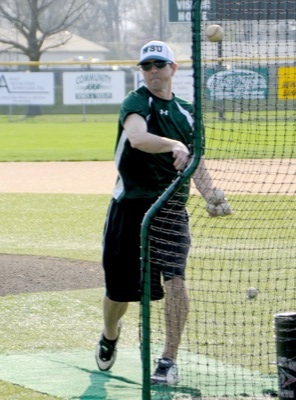 CELINA - After nearly a year of preparation, Rob Howell will get to do some college coaching for real beginning on Sunday.
The Wright State University-Lake Campus baseball team will make its program debut on Sunday with a doubleheader against Ashland University's club team at Montgomery Field with first pitch slated for 1:30 p.m.
After being named the first-ever coach of the program last June, Howell has been working on constructing a team.
"We've all put a lot of time into it," said Howell, a former baseball standout at Coldwater and the University of Dayton. "Obviously, that's what's needed to have a successful program. Guys have been working hard all winter and this spring. We have been building team chemistry. They've spent a lot of time together, the things you need to do, besides throwing strikes and getting outs. It's the little things on and off the field that we've been working on as a team so that when we take the field on Sunday we're ready to go."
The Lakers' team has 13 players on the roster and 12 are from the Grand Lake area. Howell will have five players from Celina, where the Lakers' mentor coached during the summer ACME season the past few years. Coldwater, Parkway, St. Henry and New Knoxville are also represented on the Lakers' first roster.
"We're hoping to generate a good fan base, because all our guys are from the area for the most part," said Howell. "... This is home to them still and we feel comfortable here. That's important for us. We think that will generate a lot of enthusiasm in the community. Hopefully, we'll get a good fan base and generate some wins for them."
In addition to playing in the Ohio Regional Campus Conference, along with teams like Ohio State-Lima, the Miami University branches in Middletown and Hamilton and Ohio University-Chillcothe, the Lakers will play against University of Northwestern Ohio (NAIA) and Urbana (NCAA Division II), along with the club team from Bowling Green State University.
"We're up for the challenge. We know what kind of challenges lie ahead," said Howell. "The guys didn't shy away from it. We had the chance to put UNOH and Urbana on the schedule and the guys were, 'Yeah. Let's play it.' It's going to give us a good test early in the season on how good we are, where we've come and where we need to go."
Howell's goal for the Lakers is to reach the ORCC tournament.
"I set the bar high, I always do," said Howell. "I expect a lot of myself as a coach, my coaching staff (Shane Gass will serve as assistant coach) and my players. Otherwise, there's no point in being here. It's about putting in the work and getting the result on the back end.
"We're going to work the whole month of April for our conference tournament in May. That's what it's all about. That's the goal: to capture an ORCC title the first year. Make some noise in the conference. Let people in the community know we're here and know what the program is all about."

2012 WSU-LC Lakers Baseball Roster:
# Name Pos. Yr. High School
1 Nick Legg OF FR Celina
3 Joe Dellinger P/OF SO Parkway
6 Josh Leonard INF SO Celina
7 Kyle Markle OF FR Celina
10 Jake Lawler P/OF SO New Knoxville
12 Eric Kunkler INF FR St. Henry
16 Trevor Burch P/OF FR Dublin Jerome
23 Caleb Shreves P/INF SO Celina
25 Jeremy Kerr P/INF SO Celina
28 Bill Ray P/INF SO New Knoxville
32 Jay Kleinhenz P FR St. Henry
33 Aaron Rammel C/INF/OF FR Coldwater
34 Keith Schoenherr C SR Coldwater

2012 Lakers Schedule:
March
25 Ashland University Club (DH) 1:30
27 UNOH 4
28 Urbana University 3
April
1 Miami-Middletown (DH) 1
3 at Miami-Hamilton 3
6 BGSU Club 5
7 at Miami-Middletown (DH) 1
12 OSU-Lima 4
15 at OU-Chillcothe (DH) 1:30
17 at OSU-Lima 4
19 OSU-Lima 4
22 OU-Chillcothe (DH) 1:30
23 at Urbana University 3
24 at OSU-Lima 4
28 Miami-Hamilton (DH) 1
May
4-6 ORCC Tournament
11-13 ORCC Tournament