Thursday, April 5th, 2012
2011-2012 Girls' Basketball Dream Team
Wuebker, Stetler earn top local honors
By Gary R. Rasberry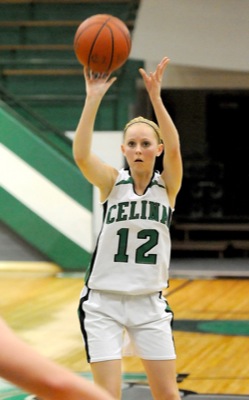 The top honors for the The Daily Standard's 2012 Girls' Basketball Dream Team is about perseverance and determination.
Marion Local's Margaret Wuebker led her team to a perfect record within the Midwest Athletic Conference this past season and it earned the Flyers' leader Player of the Year honors.
Celina's girls' coach Brian Stetler had just one senior on the roster but guided the Bulldogs to 19 wins and earn Coach of the Year recognition for the second time.
WUEBKER
Wuebker, who can play either guard and forward, was a four-year starter for coach Treva Fortkamp and helped the Flyers to a 58-29 record during that span with two MAC championships. Wuebker credited plenty of practice in getting herself and her teammates ready for the always tough slate in the MAC.
"Over the past four years, I put in countless hours on the basketball floor," said Wuebker. "Working with my teammates to make them better and to make me better. (The statistics) don't show how much time we actually put in. ... We're working all week, all summer and all winter to get better."
Wuebker has signed to play collegiately with the University of Findlay and admits that making that decision in early November lifted a weight off her shoulders.
"When I signed in November, it was a big relief for me," said Wuebker. "I could focus on getting ready for my senior season."
Wuebker did a little bit of everything for the Flyers this past year, averaging 10.3 points per game and leading the team with 6.1 rebounds and 2.9 assists per game. Wuebker also contributed nearly two blocks and just under one steal per game.
Her leadership helped the Flyers to their second conference title in the past three seasons and finished the regular season with a record of 17-3. The only regular-season losses for the Flyers came to teams that made it to the district finals (Division II state semifinalist Bath, Mercer County rival Celina and Division III state runner-up Anna).
"The MAC is a tough conference every year," said Wuebker, who earned Honorable Mention All-Ohio honors this past season. "You have to be ready to play because on any given night, any school can beat you. Going undefeated in the MAC is a huge accomplishment. I was so proud of all my teammates and coaches. It will be something I will remember for the rest of my life."
STETLER
After finishing 12-11 and advancing to the district tournament a year ago, Stetler's squad looked good with 11 letterwinners still having eligibility for the 2011-12 season.
But when four letterwinners from the season before declined to play this year, Stetler focused on a core of seven players that featured just one senior - Danielle Bihn.
Celina started the season with a record of 2-2, losing to Wayne in the finals of the OVISCO Classic and then opening the WBL campaign with a loss to Bath. After that, Celina lost just two more times in the regular season to go 16-4 overall and 7-2 (third place) in the WBL.
"I think it was the fact that the kids bought into the system. They had very good team chemistry," said Stetler, who shared Daily Standard Coach of the Year honors in 2008 with Versailles' Jacki Stonebraker. "They were willing to do whatever. It didn't matter who was the leading scorer, leading rebounder. They just liked to win."
Stetler pointed to Celina's 54-48 win over Marion Local in mid-January, where the Bulldogs trailed by eight points at the half and outscored the Flyers 37-23 in the second half for the win, as a significant moment in the season.
"That gave us a boost," said Stetler. "Going there (to The Hangar), knowing they had a pretty nice team. That was a pretty nice confidence builder for us."
Celina avenged the regular-season loss to Shawnee in the sectional final and advanced to the district tournament for the sixth straight season. The Bulldogs defeated Napoleon in the semifinals before losing to eventual state semifinalist Bath in the district final.
Unselfish play was another key for the Bulldogs this year. While Kylee Bader was the only Bulldogs' player to finish the regular season scoring in double digits, all seven players - Bader, Danielle Bihn and sister Emily Bihn, Katie Stahl, Hillary Heiby, Bath Homan and Taylor Guingrich - were capable of stepping up on offense.
"We really had seven different leading scorers throughout the year," said Stetler. "Each of them led (in a game) at one time (or another). That just goes to show you (that) you couldn't focus on just one."

2011-2012 Girls' Basketball Dream Team:
GUARD
Kylee Bader
Celina
12.0 points, 3.5 assists

GUARD
Haley Horstman
New Knoxville
11.2 points, 6.1 assists

FORWARD
Becca Harshman
Parkway
15.0 points, 6.6 rebounds

FORWARD
Margaret Wuebker
Marion Local
10.3 points, 6.1 rebounds

CENTER
Chelsea Winner
Marion Local
11.9 points, 4.7 rebounds

SIXTH PERSON
Sara Kanney
Coldwater
14.4 points, 60 three-pointers

2012-12 Girls' Basketball Dream Team Second Team:
GUARD
Haley Burtch
Parkway
11.1 ppg., 3.4 rpg.

GUARD
Ashley Heitkamp
St. Henry
8.0 ppg., 4.4 rpg.

FORWARD
Katie Stahl
Celina
9.9 ppg., 8.8 rpg.

FORWARD
Kylie Kahlig
Fort Recovery
11.6 ppg., 5.7 rpg.

CENTER
Tara Clune
Minster
10.2 ppg., 7.8 rpg.

SIXTH
Paige Lehman
New Knoxville
13.3 ppg., 5.4 rpg.

Coach Stetler:
• Guided Celina to a 19-5 record this season for the most Bulldogs' wins in a single season since 2007-08.

• Celina's girls finished third in the Western Buckeye League with a 7-2 record (behind Bath and Shawnee).

• The Bulldogs played with a seven-person rotation (one senior and six juniors) after four letterwinners from 2010-11 team decided not to play as seniors.

• Celina lost to Bath in the Division II district finals.

• Stetler has a career record of 111-74 in eight years coaching at Celina.