Wednesday, April 11th, 2012
Panthers score six in sixth to top Tribe
By Mark Ruschau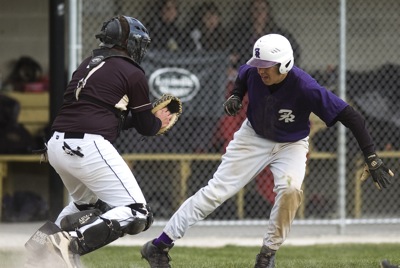 ROCKFORD - The Parkway Panthers got one big offensive inning and a solid relief effort from senior John Rollins to defeat the Fort Recovery Indians 6-5 in Midwest Athletic Conference baseball play on Thursday afternoon at Don Black Field.
Parkway improves to 7-4 overall and 2-0 in the conference while Fort Recovery falls to 4-8 on the season and 0-1 in the MAC.
"It is always nice to get a win, especially in the conference," said Parkway's coach Mike Schumm. "Fort Recovery has greatly improved and they have a nice team and we were fortunate to score those runs in the one inning. We kind of were able to catch fire and score some runs at the right time and that was big and it changed the momentum of the game.
"John is a really fine pitcher and he came and did a nice job for us," continued Schumm. "It's a luxury to have a pitcher like John to come in and pitch a fine game for us."
Rollins came on in relief with one out in the third inning with his team trailing 3-0. Rollins earned the win by allowing the Indians just two runs, one earned, on three hits. Rollins walked just three and struck out 10.
Trailing 4-0 entering the sixth inning, Parkway sent nine men to the plate and scored six times. Derek Luth reached on an error to start the inning and after Kameron Roehm flew out, Fort Recovery's coach Jerry Kaup turned to Kent Retz on the mound in relief of Indians' starter Jared Kahlig. Retz promptly loaded the bases after walking Brett Swygart and hitting Jordan Stephenson with a pitch. Brandon Moorman then hit a ground ball to the left of Indians' shortstop Chad Schroer who tried to get the out at second but threw the ball into rightfield allowing Luth and Swygart to score.
After Riley Bransteter walked to reload the bases, Jonathon Fent had the big hit of the rally as he cleared the bases with a triple to the right-centerfield gap to tie the score. Bryce Bedwell gave his team the lead as he hit a ground ball to second and plated Fent.
"The error there in the sixth hurt, but we gave up some bases with walks and hit batters," said Fort Recovery's coach Jerry Kaup. "My starting pitcher did an excellent job, my relief pitcher knew he was going to come in and he did not have it today and I hope that this is a step forward and he understands that he has to be ready when it is his turn."
The run scored by Fent proved to be huge as Fort Recovery scored once in the top of the seventh and left bases loaded as Rollins wiggled out of the jam.
Fort Recovery returns home on Friday as it hosts Versailles in another MAC game while Parkway is also back in conference play on Friday on the road at Coldwater.