Wednesday, April 18th, 2012
'I feel love more than you think'
Autistic woman gives listeners insights into living with the misunderstandings of disorder
By William Kincaid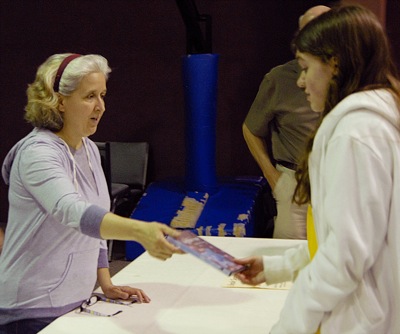 CELINA - Sondra Williams does not suffer from autism - she suffers from society's misunderstanding of the disorder.
"Autism is not who I am in life," Williams, of Columbus, told a crowd at St. John Lutheran Church on Tuesday night while presenting "Define Me: A Personal View of the Gifts and Challenges Autism Brings." The event was sponsored by ARC of Ohio in Mercer County.
Williams, who is married and has four children diagnosed with Asperger syndrome, tried to convey in a few hours the complex and multifaceted disorder.
"I do know and feel love more than you think," she read from a poem she wrote.
For Williams, autism has caused an uneven development of self, not necessarily an intellectual impairment, she said. She has relied on scripts - certain words, phrases, sentences that hold meaning to people without autism - and medicine to facilitate better speech.
Williams said though she has struggled with her own identity - often feeing fragmented - she has a human form, experiences emotions, has dreams and goals and expresses herself in poetry and other artistic ways.
"I assure you that I feel," she said, explaining others often don't recognize her humanness.
Each person on the autism spectrum has his or her own unique sets of challenges, Williams said. Children and adults with autism should not be perceived as disabled but considered people with potential and intellectual ability.
"Autism is a barrier from my world to yours," she said, adding she explores the world in her own way.
The idea of a cure for autism - a means of changing, fixing or imposing an outside belief system - frightens Williams. She interprets such possibilities as a means to extinguish identities and make certain people act "normal."
Too often people with autism are perceived as lumps of autism, not personalities, she said.
But that doesn't mean Williams doesn't want to be healthier, especially with biomedical and autoimmune issues accompanying autism.
"I have to learn to live with what I got," she said.
Williams has difficulty making sense of social cues and often misinterprets the way words are used by perceiving them literally. Autism affects the way her brain processes information, she said.
"If I were blind, would you condemn me for not seeing?" she asked.
Williams also has an inability to recognize faces. Because of this facial blindness, she relies on certain markers for remembering people, taking note of accents, inflection and tone of voice and types of jewelry worn.
She has a deep love and concern for humanity but struggles understanding people as individuals. Some have asked how she can speak to crowds, to which Williams said it is because she is not interacting with people.
Williams finds females difficult to interpret as they can go through every emotion in the book in five minutes and have a secret, private language of eye cues and tilts of heads, she said.
"And I have no clue how they do that," she said, adding she finds women overwhelming.
Williams said her brain is like a computer: sometimes it gets stuck and can't retrieve scripts and pieces of information. Delayed processing can result in disconnected words dripping out a little at a time.
A misfire in her brain can produce an inappropriate emotional response and repetitive body movements - swaying and shaking - are common, she said.
But to her, those movements are involuntary - just like blinking her eyes or breathing, she said.