Wednesday, April 18th, 2012
Coldwater earns first MAC win of the year
By Gary R. Rasberry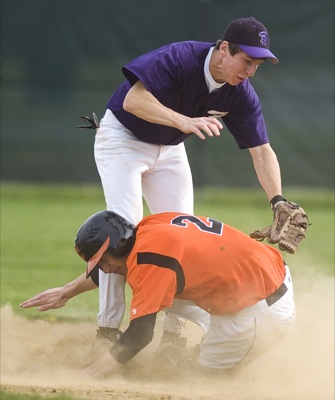 FORT RECOVERY - Coldwater had to rally twice against Fort Recovery in Midwest Athletic Conference baseball action on Tuesday to pick up their first conference win of the season, a 6-5 triumph at the Indians' diamond.
Coldwater, having lost its first two league games, was taken to the wire by Fort Recovery as the Indians had the tying run at third base with one out in the bottom of the seventh.
"I told them 'This is MAC baseball,'" said Coldwater's coach Brian Harlamert. "We were both 0-2 (in the MAC) and both of us have played tight games. They had a chance to beat two (one-run losses to Parkway and Versailles) and we were in our games (losses to New Bremen and Parkway)."
After Fort Recovery, which had been outscored 39-3 combined in the previous four meetings with the Cavaliers, scored in the first inning when Chad Schroer scored on a Drew Klosterman wild pitch, the Cavaliers took their first lead in the second inning with three runs. Coldwater's Matt Selhorst scored on an error and Grant Muhlenkamp crossed home plate as part of a double steal. Randal Muhlenkamp drove in Jordan Klosterman for the Cavaliers' third run.
The Indians, however, tied the score on a two-run single by Blake Boughman in the bottom of the third. In the fourth, Fort Recovery's Jared Kahlig reached base on a walk and moved to second after a sacrifice bunt before Shane Pottkotter drove him home on an RBI single. After an out, Schroer singled and Gabe O'Dell was hit by a pitch to load the bases for Boughman, who singled to rightfield to give the Indians a 5-3 advantage.
Fort Recovery's pitcher Jared Kahlig ran into trouble in the fifth inning as Coldwater's Drew Otten and Stammen reached base safely. The Indians looked to get out of trouble with back-to-back force out plays at third, but Cavaliers' pinch-hitter Matt Kramer hit a shot that bounced off the mound and over second base for an RBI single to make it 5-4. Grant Muhlenkamp then doubled home two more runs to put the Cavaliers in front 6-5.
"Jared pitched well," said Fort Recovery's coach Jerry Kaup. "That line drive up off the pitcher's mound over our second baseman's head, that just happens."
"Matt battles, gets a lucky hop but still a hit," said Harlamert. "Grant had two hits. We're young and have kids who battle hard."
Coldwater's Eric Schmackers came on to pitch in relief of Klosterman and allowed just a walk over the fifth and sixth innings. In the seventh, Fort Recovery's Hayden Pottkotter belted a one-out double and went to third on a passed ball, but Schmackers struck out Jacob Muhlenkamp before enticing Jared Kahlig to ground out to end the game.
"Drew did a good job. It's the first time he's started all year," said Harlamert. "He gave us a good effort coming out."
"We got ahead, got behind, got even and got ahead, got behind and tried to get even again," summed up Kaup. "Our kids played well, played hard. We could have made a few more plays, but that's baseball. We gave it our best effort."
Otten had a big hitting game for Coldwater going 3-for-4 while Boughman went 2-for-3 with three RBI for the Indians.
Coldwater hosts St. Marys on Thursday while Fort Recovery is off until Friday when the Indians head to Hanover Street Park in Minster to face the Wildcats.