Saturday, April 21st, 2012
St. Marys tops Celina in extra innings
By Gary R. Rasberry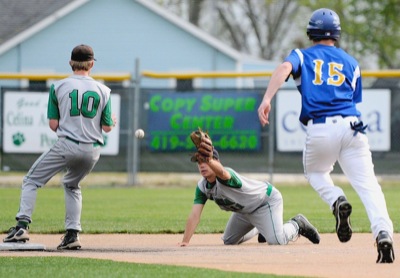 CELINA - For six innings, Celina's baseball team did everything it needed to keep St. Marys off the scoreboard and held a 3-0 lead with three outs to go.
Then, things started going the Roughriders' way.
St. Marys scored three runs in the top of the seventh inning to tie the score and then scored two in the eighth inning to leave Montgomery Field with a 5-3 win in Western Buckeye League action.
The Roughriders are now 11-5 on the season and 4-1 in the WBL while the Bulldogs (8-8, 1-3 WBL) drop their sixth straight game.
St. Marys committed five errors that produced two unearned runs out of the three that Celina scored. Cody Vogel reached on an error for the Bulldogs in the first inning and came home on a Derek Waterman's sacrifice fly. In the sixth, back-to-back sacrifice bunt attempts by Celina were booted by St. Marys and left the bases loaded with one out and the Bulldogs scored twice.
"It's interesting. This diamond, we shouldn't have five errors on," said Roughriders' skipper Dave Huber. "This is a good diamond to play on. Obviously, the errors put us behind the 8-Ball, but the guys kept fighting and believing in themselves."
Celina's Aric Fickert pitched an exceptional game through six innings. Although Fickert allowed seven hits and two walks, he was able to work himself out of jams and his defense came up with plays to keep St. Marys scoreless.
"We played a great six innings of baseball," said Celina's coach Drew Braun. "When we needed outs and Fick got into some jams, he was able to work out of hit. Did a nice job. Going into the seventh up 3-0, we felt pretty good about it."
In the top of the seventh, though, there was a change. Fickert gave up a bunt single to Luke Leffel before D.J. Manning stepped up and lofted a shot to deep centerfield for a double that scored Leffel all the way from first base. Kalobb Dodson followed with an RBI double to left-centerfield scoring Manning.
Braun called on Waterman in relief to try and stop the threat. Waterman struck out Nick Vogel, but Michael Huber singled to leftfield scoring Dodson for the tying run. After Huber stole second and Steven Paulus flew out, Jarrett Taylor was intentionally walked to set up a force and Waterman got the out on his own with a strikeout of Tyler Roby.
"You have to give them credit," Braun said of St. Marys. "They start out with a bunt base hit (then) double-double. All of the sudden, here we go."
In the eighth after the first out, Leffel got his third straight hit of the day to start a Roughriders' rally. Manning then blasted a shot to right-centerfield that scored Leffel from first once again as Manning legged out a triple. Dodson stepped in and grounded to third and as Celina's Kaleb Kuhn made the throw to first, the speedy Manning dashed home for an insurance run.
The two-run lead was more than Sawmiller, who scattered five hits on the day, needed in the bottom of the eighth.After walking Fickert, Sawmiller got Shawn Stachler to force out Fickert at second. Kuhn became Sawmiller's eighth strikeout victim of the game before Riley Luebke flew out to center to end things.
"Brad pitched a tremendous game," said Huber. "We had key hits up and down the lineup. We showed (we can be) the team that we want to be if we play the game and stick with it.
"We've talked about composure (and) maturity," continued Huber. "We talked about being one pitch away, winning every pitch and believing in your teammates and yourself. These guys are clearly buying into that."
"It wasn't like we gave this game away," said Braun. "(St. Marys) came out hitting the ball in the seventh and we just couldn't get them out when we needed to."
Both teams are back in non-league doubleheader action today. Celina hosts Paulding while St. Marys travels to face Sidney.