Wednesday, April 25th, 2012
Cavs outlast Wildcats in 15-inning classic
By Mark Ruschau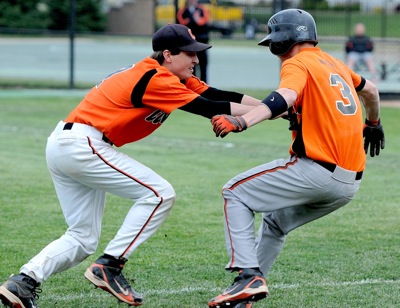 COLDWATER - The Coldwater Cavaliers received a game-winning hit from Matt Selhorst with two outs in the 15th inning to defeat the Minster Wildcats 2-1 in Midwest Athletic Conference play on Tuesday at Veterans Field.
Coldwater improves to 3-2 in conference play and 13-6 overall. Minster falls to 3-2 and 16-4.
"It was just a great effort by both teams," said Coldwater's coach Brian Harlamert. "Both teams were very focused. It seemed like every pitch meant something and unfortunately one of us had to lose and hopefully the momentum from tonight carries into the rest of the week and the rest of the season."
"I just told the guys that you will never be in a baseball game like that again," said Minster's coach Mike Wiss. "This was MAC baseball with two good teams going at it. It was quite a night."
Coldwater's senior Randall Muhlenkamp ignited the game-winning rally with a single to rightfield. After Drew Otten was called out when he was hit by the ball on a bunt attempt, Alec Stammen singled and Drew Klosterman walked to load the bases. After working the count to 2-2, Selhorst looped a single to rightfield that scored Muhlenkamp to end the marathon.
"Matt probably had the best offensive night of any of our batters," said Harlamert. "He had a nice first at-bat before flying to rightfield, he reached on an error and then had that big base hit. He had a great approach at the plate and also did a great job defensively."
The story of the first 12 innings was the pitching from of Minster's Adam Niemeyer and Doug Huber and Coldwater's combo of Eric Schmackers and Drew Klosterman.
Niemeyer threw 10 innings without giving up a run on two hits with just one walk and 14 strikeouts. The senior righthander threw 129 pitches, 89 for strikes.
Coldwater (13-6, 3-2 MAC) had just one scoring chance off Niemeyer and that came in the first inning. Randal Muhlenkamp reached on a dropped third strike and Otten was hit by a pitch. With one out, Niemeyer balked the runners into scoring position but he got Stammen and Drew Klosterman on strikeouts to end the threat.
Schmackers was up to the task as he scattered four hits over 10 shutout innings, walking three and striking out four. Schmackers threw 116 pitches, 66 for strikes.
Schmackers got help from his teammates defensively as they turned a pair of double plays and also threw out a runner at third.
Both starters were removed to start the 11th inning and Minster immediately had a golden scoring opportunity. Niemeyer singled to open the inning, stole second and went to third on a sacrifice bunt by Huber. With Rob Wente at the plate, Wiss called for a squeeze but Wente missed the attempt and Niemeyer was picked off third.
"We have had a lot of bad baseball defensively lately after committing 12 errors in the last three games, but today our defense made numerous great plays," said Harlamert.
"We were given the opportunities to win this game," said Wiss. "To Coldwater's credit, we did not get the two-out hit. Give credit to all the pitchers that threw tonight."
Minster finally broke the scoring drought in the 13th. With two outs, Austin Knapke reached on an error and came home on an RBI double to right-centerfield by Drew Elson.
Coldwater took advantage of a Minster miscue to retie the game in the bottom of the 13th. Randall Muhlenkamp reached on an error, went to second on a sacrifice bunt by Otten and scored on a two-out RBI single by Drew Klosterman.
Minster is back in action on Thursday traveling to Bath while Coldwater is back in play on Thursday as well, traveling to New Knoxville for an MAC matchup.