Saturday, April 28th, 2012
Local man guarded most notorious
By Margie Wuebker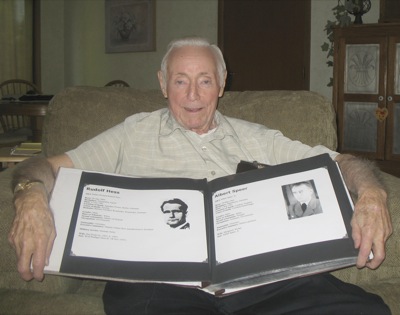 CELINA - Robert "Bob" Evans leafed through a scrapbook recalling his career in the prison system and the men he encountered - from union boss Jimmy Hoffa to Hitler's top henchmen.
"I've experienced quite a bit of history in my lifetime," the 85-year-old said during a recent interview.
The Wellston native, who resides with his nephew, Bob (Karen) Evans, on Clover Lane in Celina, became a prison guard following a stint in the U.S. Navy during World War II.
For five years he served as a guard at the sprawling Spandau Prison in Germany. The prison, built to hold 640 inmates, had only four prisoners - Rudolf Hess, deputy fuhrer to Adolf Hitler; Walter Funk, Hitler's economic minister; Albert Speer, armament minister; and Baldur von Schirach, head of the Nazi youth army known as Hitlerjugend. All were convicted of war crimes against humanity at the Nuremberg trials.
Three others - Erich Raeger, commander in chief of Reich administration; Karl Donitz, a U-boat commander who briefly served as president following Hitler's death; and Baron Konstantin von Neurath, foreign affairs minister; - had been released prior to Evans' arrival in 1957.
"The seven received sentences ranging from 10 years to life," Evans said. "Eleven other defendants were executed for their crimes. I don't think any other prison in the world could boast more guards than inmates."
Evans recalled the flawless English spoken by Schirach. His mother grew up in Philadelphia and worked in Washington, D.C., before marrying a German and moving to his homeland. She permitted only English to be spoken in their home.
Schirach told Evans he patterned the Hitlerjugend oath from the Boy Scout pledge and then added the "Heil Hitler" salute. The German expressed pride in amassing a youth army of 250,000 school boys for the fuhrer's 50th birthday.
Evans described Speer as a brilliant man capable of talking knowledgeably on any subject ranging from moon-bound rockets to fishing. He surreptitiously wrote a 1,200-page manuscript during confinement. The pages were smuggled out by a local man who tended to the inmates' medical needs and later published in the U.S. under the title "Inside the Third Reich."
"Speer was my favorite," Evans said. "He was the only inmate to express sorrow for his actions. I'll never forget the day he borrowed my pocket knife and cut flowers for my wife's birthday. His own wife came to visit each month; he sat at one end of a long table and she at the other end. They never touched but you could see the deep love they shared."
Speer also knew the precise number of meters needed to equal a trip around the world. He achieved that goal walking the prison yard, Evans said.
Evans never developed a camaraderie with Funk - a man who reportedly amassed a fortune in gold from the teeth and wedding rings of dead Jews.
Funk, who spoke broken English and enjoyed telling dirty jokes, had been a pianist before the war. The fragile man battling a serious illness was released shortly after Evans' arrival because the Russians did not want anyone to die under their watch.
Evans said Hess never forgot his place in the Third Reich or shed his aura of superiority. Fellow inmates tended vegetable gardens, grew flowers and cleaned cells, but Hess never worked, he said.
Many people considered Hess crazy, but Evans thinks more than 40 years of solitary confinement lead to the deterioration. He was the only prisoner at Spandau during the last 14 years; the prison was razed following his suicide in 1987.
Newspaper accounts claim Hess fashioned a rope with threads from his socks and wrapped it tightly around his neck. Evans questions how such a thing could happen because guards were under orders to maintain "eyeball contact" at all times.
"I cannot condone what those men did," Evans said. "But I treated them with respect as I did all prisoners during my career. Yes, they did horrible things, but they were still someone's son, husband, father or brother. That puts everything into perspective."
After serving in Germany, Evans went to work as a guard at the Ohio Penitentiary and then at a federal prison in Lewisburg, Pa. At the federal prison he watched over Hoffa and mob boss Vincent "Chin" Gigante, a member of the Genovese crime family. He accompanied Hoffa to various court appearances and watched with amazement as Gigante rallied inmates to clean an entire floor from floor to ceiling.
"He knew how to get the job done without touching a mop or a broom," he said.