Saturday, April 28th, 2012
Celina's offense buries Shawnee in five innings
By Ryan Hines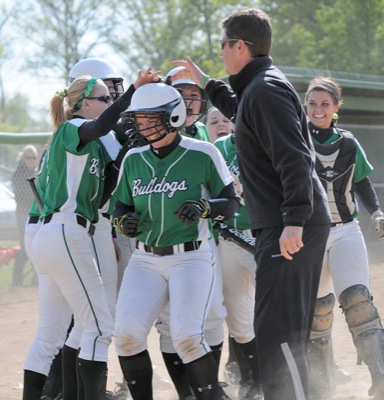 CELINA - It took 15 innings a year ago to determine a winner when Celina's softball team faced Shawnee.
This year it only took five innings and Bulldogs liked the results much better.
Celina belted 13 hits and rolled to a surprising 11-1 five-inning victory over the Indians during Western Buckeye League play on Friday at Bill Feth Diamond.
"I never expected that. We didn't show up mentally tonight. Celina deserves credit because they came out and hit the ball hard," said Shawnee's head coach Lou Seddelmeyer. "I told Nicole (Driggs) before the game, 'Let's not play 15 innings tonight', but I didn't expect to play just five, I can tell you that."
The Bulldogs (12-8, 6-1 WBL) remain in a first-place tie with Bath in the WBL title race while Shawnee slips to 13-4 (5-3 WBL).
"This was a huge win for us, but we still have two league games left to play against Kenton and Defiance. We have to continue to play with the passion that we have had the last several games," said Celina's head coach Nicole Driggs. "We know that Shawnee is better than what they showed tonight. They are a great team that will be tough to beat in the tournament."
Losing 3-2 in a 15-inning classic last year provided the Bulldogs with a little more motivation entering this season's matchup.
"It was a tough loss to them last year and I think that we played with a lot of motivation tonight," said Celina's Katie Kerr. "There was a lot on the line tonight and we performed well."
Kerr certainly did her part to push the Bulldogs to victory. The junior pitcher allowed just one run on four hits while adding a 3-for-3 day at the plate with three runs scored and two RBI.
Kerr was just one of the offensive stars for Celina as Hillary Heiby and Alexis Zacharias combined for four hits, five RBI and four runs scored. Leah Rose (single, double) and Kassandra Williams (two singles, two RBI) also connected for a pair of hits.
Zacharias put Celina on top 1-0 in the bottom of the first inning with a towering solo home run to leftfield. The home run was her eighth of the season which sets a new school record, previously held by her older sister Abby Zacharias, who hit seven last season.
Shawnee tied the score at 1-1 in the top of the second inning when Morgan Truxal doubled and scored on a fielder's choice by Tori Runneals.
The score didn't remain tied for very long as Heiby's sacrifice bunt scored Katie Kerr for a 2-1 Bulldogs' advantage.
Celina put the game out of reach with a six-run third inning when the Bulldogs sent 10 batters to the plate and collected seven hits.
The Bulldogs had four singles in the first five at-bats to start the third inning and chased Shawnee's starting pitcher Sam Bullock after just 2 1/3 innings.
Kaylin Shick replaced Bullock on the mound and Kerr greeted Shawnee's relief pitcher with a two-run double as the Bulldogs charged in front 7-1. Heiby, Zacharias and Shelby Barga added RBI hits in the third frame as Celina charged in front 8-1.
"I have to give my girls credit for being patient and waiting for their pitch tonight and we hit the ball well through the whole order," said Driggs. "We rallied around each other and that's what it takes to be successful."
It looked like Shawnee had a rally started in the fourth inning with the bases loaded and no outs, but Kerr wiggled out of the jam with a little help from her defense.
Kerr got the first out on a pop out to Kaity Kuhn at second base before Rose fielded a ground ball at third base and fired home to Heiby who stepped on the plate for the second out and then fired to Williams at first base to complete a double play and end the threat.
"Katie did a good job making good pitches and the double play was a big play because it prevented them from scoring when they had the bases loaded and no outs," said Heiby. "That was huge for us."
Celina then triggered the run-rule with a three-run fifth inning. Heiby's RBI single put Celina on top 9-1 before Williams' two-run single with two outs ended the game.
"We got on them early and never let up. We got contributions from the whole team and when we do that we are tough to beat," said Heiby.
The Bulldogs have two remaining WBL contests with the first coming on Tuesday at home against Kenton, followed by a matchup against Defiance on May 7.