Tuesday, May 1st, 2012
Panthers score early against Flyers
By Mark Ruschau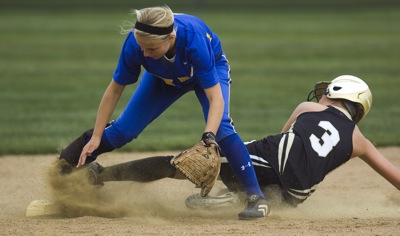 ROCKFORD -With the tournament opener just over a week away, the Parkway Panthers softball team is hitting its stride at the right time, as represented by its 16-1 five inning run rule contest of the Marion Local Flyers in Midwest Athletic Conference play on Monday afternoon at the Panther Softball Field in Rockford.
With the win, their eighth in the last nine games, Parkway improves to 17-4 overall and 5-0 in conference. Marion Local falls to 6-10 and 1-3.
Parkway showed its offensive prowess as the Panthers pounded out 15 hits, including five for extra bases. Lindsey Walls led the Panther offensive attack, going 2-for-4 with a double and a home run while driving in four runs. Peyton Heitkamp chipped in three hits and two runs batted in.
In all, nine of the 13 Panthers that came to the plate had at least one hit. Nine of them scored at least one run and six drove in at least one run.
Parkway jumped on Flyers' starting pitcher Allison Rosenbeck for six runs in the first inning. Olivia Smith walked and Taylor Walls singled in front of an RBI single by Sierra Fent. Lindsey Walls then quickly made the score 4-0 with her blast to left field.
Kylie Snyder restarted the rally and scored the fifth run of the inning on a Destinee Guggenbiller double. Rachel King followed with a single to plate Guggenbiller with a single.
"We gave them extra outs tonight but they also hit the ball hard," said Marion Local's coach Russ Puthoff. "They are a team that has always hit the ball hard. They make their adjustments and it is a team that you can't give five or six outs."
The Parkway offense was not done as they scored runs in each of the next three innings to complete the rout.
"We are hitting the ball hard right now," said Parkway's coach Mark Esselstein. "You can not ask for a better start: four batters, four runs. What I was really pleased with was that we kept the offense going. One of our (points of) emphasis was that we wanted to finish ball games and we did that tonight."
The 16 run outburst was more than enough for Parkway starting pitcher Fent, who allowed the Flyers just two base runners in pitching four innings of no-hit ball. The Flyers managed a hit and run in t he top of the fifth off of Panthers' reliever Morgan Steinbrunner.
The Panther defense was solid all night as they did not commit an error. The defensive effort were highlighted by a great running catch into right center by right fielder Kayla Walls and two diving catches of line drives by Snyder at first.
"Our defense is coming around and there is no better time than right now," said Esselstein. "Our bugaboo earlier in the season is that were not making the routine plays. As long as we our making the routine plays, we have the athletes to make the harder ones."
Parkway is back in action on Wednesday as they travel to Shawnee. Marion Local returns home tonight playing the Anna Rockets.