Tuesday, May 8th, 2012
School bus drivers' skills put to the test
By Amy Kronenberger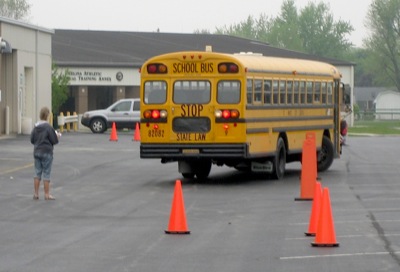 CELINA - Stop at exactly 17 1/2 feet before the railroad, don't knock over a cone and watch out for Flat Stanley.
Area bus drivers on Saturday competed in the regional School Bus Safety Road-E-O competition held for the first time at Celina High School.
The annual competition included a written exam and an obstacle course that involved curb parking; railroad crossing; reverse snake; reverse parking between gates; and Flat Stanley, a test involving a wooden mannequin rolled slowly toward the back of a stopped bus. When the driver thought Stanley was as close as possible without touching, he or she would blow the horn.
The top six drivers, including one from Celina and St. Marys, advanced to state competition May 19. State winners will advance to nationals in Milwaukee, Wis., in July.
"I do it for fun and for the safety of the kids," Celina driver and second-place winner Wayne Fisher said. "The laws change every day so being here makes you a better driver and makes you feel better about yourself and your own abilities."
Fisher, who has competed in the 41-year-old event for 27 years, has advanced to state six times and nationals once.
Drivers completed the course using traditional and transit buses - buses with a flat nose.
Judges grade drivers on precision of maneuvering, hitting cones and closeness to marked targets.
Veteran driver and past nationals participant Karlene Anderson of Graham Local Schools said even the most experienced drivers can struggle with the difficult course.
"The course has changed this year for the first time," she said. "Everyone's got a fighting chance now because even the veteran winners are on the same page ... You learn something new for your route every year you compete."
Celina bus driver Carol Henderson said she struggled this year.
"When I finished the course and got off the bus, I told the other drivers I got 44th place; I knew I didn't do well," she said. "When I got 19th place, I was happy with that."
Henderson said one of the new challenges included blacking out the lower, rear window of the bus to make reverse driving more difficult.
Anderson, who's participated in the competition since 2003, said she loves meeting new people through the competition.
"Wayne (Fisher) and I have gotten to be good friends over the years," she said. "The year we went to nationals (2006), we tied for first place at state. That year was a lot of fun."
St. Marys substitute bus driver Jim Rowen said the Road-E-O was great for the rivalry between Celina and St. Marys.
"This is a good competition between the two schools," he said. "We have a lot of regional and state champions between the two towns."
Rowen, who has attended the competition for eight years and qualified for state three times, said he competes to hone his skills and be a better driver.
First-place winner at Saturday's event was Roger Griffieth from Troy City Schools. Third and fourth places went to Anthony Wysong from Centerville and Dan Hollinger from St. Marys. Also advancing to state finals were fifth- and sixth-place winners Cindy Corwin and Danny Fish, both of Benjamin Logan Schools.
Other schools participating were St. Henry, Troy, West Carrollton, Springfield, Madison Plains and Graham.