Tuesday, May 8th, 2012
Keeping pace with technology
Farmers can sign up for GovDelivery electronic news service to get USDA, information
By Nancy Allen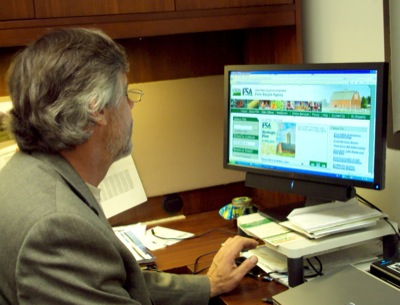 Important USDA information and updates are now available to farmers via email, smartphones and text messaging.
Farmers in Mercer and Auglaize counties can sign up immediately at Farm Service Agency (FSA) offices in Celina and Wapakoneta for the free GovDelivery electronic news service.
"It will give our customers the ability to review information electronically 24/7," said Chris Gibbs, executive director of the Mercer County Farm Service Agency office in Celina.
Gibbs and Anita Green, FSA executive director for Auglaize County, were among USDA officials on a state task force to launch the new system.
Farmers can visit their FSA office to register or go online at
www.fsa.usda.gov/subscribe
and follow the online options. Customers will be asked to provide email address and cell phone numbers.
Participants can set up subscriber preferences by choosing to receive farm program information by topic, state and/or county, as well as national USDA information. Farmers may select an unlimited number of subscriber options to allow for updates from multiple counties or from across state lines.
FSA office employees will tell farmers coming into the office to certify crop acres about the online program, Green said.
"It's kind of an outreach plan of action to make our customers aware of the potential we have to provide them with information," Green said.
Green noted anyone can sign up for the GovDelivery service to receive USDA information, not just farmers.
"Bankers, crop insurance agents, implement dealers and machinery sales, livestock suppliers and growers," she said. "Really anybody who could use the information."
People who do not wish to use the GovDelivery system will still receive some information in the mail, Gibbs and Green said, but it will be severely restricted. FSA also will rely on free local radio and newspaper media to get information out now, he added.
The new system fits in with recent USDA cuts aimed at reducing mailing costs.
"GovDelivery was developed so USDA could match how more and more of our customers are doing business," Gibbs said. "The cost savings are a secondary benefit."
This year will be very important for farmers to receive information because a new farm bill will likely be passed, Green said.
"There will be new programs to announce, maybe information whether we are extending existing programs until new legislation passes and other information," she added.
For information, contact the Mercer County FSA office at 419-586-3149 or the Auglaize County FSA office at 419-738-4016.