Friday, May 11th, 2012
Rose delivers in the eighth inning as Celina tops Wapak
Division II Sectional Softball at Bath High School
By Ryan Hines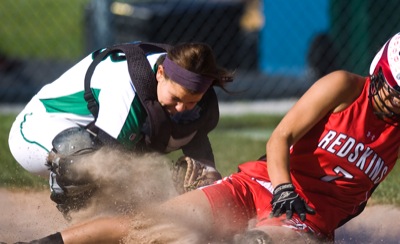 BATH TOWNSHIP - Regardless of the sport, coaches will often say how difficult it is to beat the same team twice in a single season.
Then defeating a team four times in just over a month must be next to impossible.
However, that's exactly what Celina's softball team did on Thursday as Leah Rose's RBI double in the eighth inning lifted the Bulldogs to a 1-0 victory over Wapakoneta in the Division II sectional championship game at Bath High School. Celina (19-8) has now beaten Wapakoneta (14-9) four times within a span of 33 days, outscoring the Redskins 29-7.
"We knew it was going to be tough against them because we have faced each other so many times this season and they know our strengths and weaknesses so well... Not to mention they have a great team," said Celina's head coach Nicole Driggs. "This was a heck of a game to watch and a great feeling to have. It was a little stressful at times since our offense usually explodes. We were waiting for it to break and glad when it did."
The Bulldogs won their first sectional title since 2008 and needed Rose's clutch hit to get the job done.
Celina opened the bottom of the eighth inning with the top of the order coming to the plate. Lead-off batter Kylee Bader got the Bulldogs' rally started by narrowly reaching first base safely on an infield hit. After a Kaity Kuhn strikeout, Alexis Zacharias blooped a pop up over the head of Wapakoneta's pitcher Renee Lovett and hustled to first base with another infield hit.
With Bader standing at second base representing the winning run, Rose stepped to the plate and fell behind in the count 0-2 by taking two strikes. Rose, who was hitless in her first three at-bats, then sent the Celina fans into a frenzy when she belted a line-drive double over the centerfielder's head to score Bader.
"I got up and knew what I had to do. I had to do this for our team and I was ready for it. As soon as I made contact, I knew the winning run was coming in," said Rose. "It doesn't bother me when I get down in the count. I got a changeup and just tried to hit it hard. It's a great feeling."
"I have a lot of confidence in Leah and knew she was ready to win this game for us," said Bader, who had three of Celina's nine hits. "We did this as a team and it just feels great to win a game like this."
Rose's game-winning hit capped the win for the Bulldogs, but Celina's third baseman also made two huge defensive plays to keep the game scoreless in the fifth and sixth innings.
In the fifth frame, Wapakoneta had the bases loaded with no outs but Rose snared a line drive off the bat of the Redskins' Elizabeth Martain and turned it into a doubleplay. In the sixth inning, Wapak had runners at first and third with two outs when Marcie Grothause smashed a line drive that Rose, fully extended, collected for the third out.
"Leah had a great hit for us to win the game and also made a few defensive plays that were huge for us," said Driggs.
Katie Kerr earned the win on the mound for the Bulldogs with eight shutout innings. Kerr allowed six hits and two walks while striking out three.
Celina defeated Wapakoneta 14-4, 11-1 and 3-2 in the other three meetings before Thursday's extra-inning thriller.
The Bulldogs will play Napoleon in the district semifinals on Wednesday in Miller City with first pitch set for 5 p.m.