Saturday, May 12th, 2012
Celina's girls capture WBL championship
Western Buckeye League Track Meet
By Gary R. Rasberry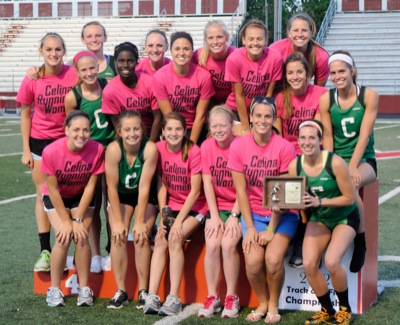 WAPAKONETA - Only one word can describe the performance of the Celina girls' track team at the 2012 Western Buckeye League Track and Field Championships:
Dominating.
The Lady Bulldogs averaged over 10 points per event in running away with their 22nd league crown, and last since 2009, on Friday night at Harmon Field in Wapakoneta. Celina tallied 174 points, 91 points ahead of runner-up Shawnee and 100 points ahead of Ottawa-Glandorf, which entered the night in second place and 15 points behind Celina.
"It's one of those years," said Celina's coach Dan Otten, holding the league title trophy and the WBL Girls' Coach of the Year plaque that goes with the team title. "Every 10 years or so there's one of those special groups. They won nine events and were second in something like seven or eight events. In all of the events except the two where we didn't have anybody (the 100 and 400 meters), we averaged double digits."
With the league scoring just six finalists - based on the number of lanes at each host track, Celina averaged 11.6 points in the 15 events in which the Bulldogs had finalists. Celina picked up 37.4 percent of the points in each event.
Depth played a big part in the Lady Bulldogs' success. In six events, Celina had two athletes score points and in four of those events, it was a 1-2 finish for the Green and White.
"We tried to put as many people in as we can (into the finals)," said senior Lexi Mills. "Everybody just came out and were tough today."
Of all the big showings, it was senior Hannah Fleck who stood out for Celina. Having been a part of the winning 3,200 relay on Wednesday, Fleck started her Friday by winning her third WBL title in the 1,600 meters, finishing nearly five seconds ahead of Shawnee's Emily Worley.
Then came Fleck's signature event, the 800. Fleck got out to a solid pace on lap one and then pulled away, winning her fourth WBL title in the 800 with a time of 2:18.99, just over two seconds off the league mark set by Deb Chapin in 1981.
The coup de grâce for Celina, which had already sewn up the league title, was the 1,600 relay. Fleck needed to run a 58-second split to try and break the record of 3:59.52. Fleck came close, as Celina finished in 4:00.04, just 0.62 seconds from record mark.
Fleck was emotional after her fourth trip to the podium of the week.
"I couldn't have asked for a better meet for me or my teammates," said a teary Fleck. "It's a great way to go out. I'm so lucky. I'm so blessed to have these girls with me.
"I was gunning for it (the 800 record). I was on time the first lap. I gave it all I had."
Also picking up multiple wins for Celina's girls was Lexi Mills, who swept the 100 and 300 hurdles while teammate Lizz Carr was close behind in both events. Mills and Carr then teamed up to run legs of the winning 800 relay.
"Lizz is right there behind me all the time," said Mills, who also was part of the winning 1,600 relay. "I knew that she would push me, and make me better."
Junior Gina Strable was also a veteran at the podium. Strable topped long-jump qualifying at 16-9 1/2 and then finished with a top effort of 17-5 1/2 in the finals to earn the win, with teammate Bekah Carr right behind in second. Strable also ran a leg of the winning 800 relay, finished second in the 400 relay and placed fifth individually in the 200.
"I felt good today," said Strable. "I feel better when it's warm. It was perfect weather today."
Katie Sutter, who finished third in the discus on Wednesday, moved up a spot on the podium in the shot put with a top effort of 34-8.
Bekah Carr also took second in the 800 with Jenna Coon picking up a second-place finish in the 3,200. Andrea Bell finished fifth in the 1,600 with Katlin Robinson doing likewise in the 3,200.
The boys' meet was close, with 17 points separating first through fifth with two events remaining. Van Wert used its depth to take the team title with 89 points and Ottawa-Glandorf was second. Celina finished where Otten had thought, taking fifth with 57 points, but just five points away from third.
The lone individual win of the day for Celina's boys came from Logan Laux in the 300 hurdles. Laux's winning time was 40.99 and teammate Wyatt Jackson finished fourth.
"The 300 hurdles is about my favorite race in track," said Laux. "I had a nice undefeated season (in the event). Got out of the blocks hard, my first couple hurdles were rough, but I managed to pull it out on the straightaway to win it. Thought it was a good win."
Celina also picked up 10 points with a strong showing in the 800 relay, winning the race in 1:33.91, just under a half-a-second ahead of Shawnee.
Collen Byer helped Celina with a fourth-place showing in the high jump and then followed with a third-place effort in the 100. Byer also ran a leg of the third place 400 relay while Derek Pease added fifth-place showings in both the 1,600 and 3,200.
St. Marys struggled and finished ninth in the girls' standings with 16 points while the Roughriders' boys scored 11 points to finish in last place.