Tuesday, May 22nd, 2012
Surgery to end Luebke's season
By Gary R. Rasberry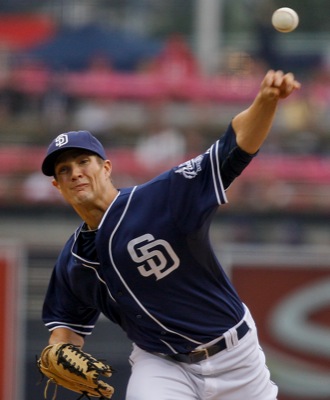 After a solid start to the 2012 Major League Baseball season, Cory Luebke's season is over.
The San Diego Padres' left-handed pitcher will undergo surgery on Wednesday to replace a torn Ulnar collateral ligament (UCL) in his pitching elbow.
The procedure will be done by Dr. Lewis Yocum of the Kerlan-Jobe Orthopedic Clinic in Los Angeles.
After pitching six innings on April 27 in a win over San Francisco, Luebke felt discomfort in his left elbow. What was thought to be just a missed start turned into Luebke being placed on the 15-day Disabled List retroactive to April 28 to see if surgery would be needed or if an extended rehabilitation process could alleviate the pain.
"There wasn't one clear-cut way to go with it," said Luebke via telephone on Monday afternoon. "The way it tore, it tore down the middle, so it wasn't like it was splitting from one end to another."
In the end, surgery became the likely option, something confirmed when the Padres transferred Luebke to the 60-day Disabled List, which would allow San Diego to add a player to the 40-man roster without having to remove a player.
"We had a few opinions. I talked to some coaches and a lot of players who have been through it," said Luebke. "We've gone through it (surgery now vs. rehab then surgery). It pretty much came down to without getting (surgery) done, the risk of me being able to pitch the way I want to pitch, bouncing back and being 100 percent, just all pointed towards surgery being done.
"(Rehab) was something we talked about. Putting together a couple of different rehab programs, everything pointed to me, either way, not making a start until July or August of this year. The way the ligaments were damaged, it wasn't something that was going to heal itself. It was just the matter of we'd be able to rehab everything around it - the flexor tendons and everything around it - to take the pressure off it. One of the MRI's showed that the ligament stretched out in my elbow separated quite a bit."
Luebke came up big in his last three starts of the season, going 3-0 with a 1.29 earned run average. He was 3-1 with a 2.61 ERA and 23 strikeouts in 31 innings pitched this season.
The procedure is better known as "Tommy John surgery", after the former MLB pitcher who first had the process done in the 1970s. The surgery uses a tendon from another part of the body, or from a cadaver, and it is used to replace the damaged ligament.
Luebke will miss the rest of this season and the start of next season. Full rehabilitation is expected to take a full year, with no throwing taking place for 16 weeks after the surgery. That would result, provided there are no setbacks, a return in May of 2013.
The good news is that the rate for a complete recovery is fairly solid.
"I fall into that 85 percentile that make it back," said Luebke. "We looked at the rehab (option), how long would I have to stay healthy? Everything pointed to where if I don't get it done, it's going to happen (surgery) eventually.
"This team is going to be getting better every year," said Luebke. "I would have regretted not getting it done in say a year or two from now when we were playing well and I was pitching well for it to go then. This team has been hit by the injury bug a bit (13 Padres' players have spent time on the DL this season). It gives me an opportunity to get it done and get healthy to be able to pitch most of next year."