Friday, May 25th, 2012
Campers fill state park
By Amy Kronenberger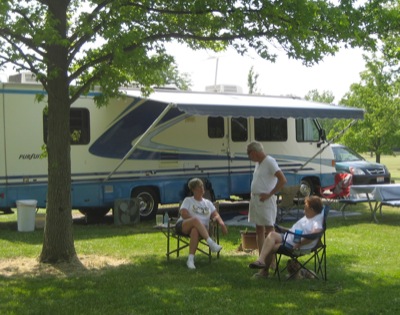 GRAND LAKE - The smell of roasting marshmallows and hotdogs will fill the air this weekend at the booked campground at Grand Lake St. Marys State Park.
Park manager Brian Miller said all reservable sites and cabins are filled and he expects the few available walk-in sites to fill quickly.
"Overall, I think it'll be a very successful weekend," Miller said Thursday. "With the weather forecast, it should be a great weekend."
Camper Pete Bertke of Coldwater, who was set up Thursday, has been camping at Grand Lake with his wife and children for more than 20 years. His children now bring their children to the lake to camp, too.
"I know that I have to book a site well in advance for Memorial Day, the Fourth and Labor Day," he said. "If you don't, you'll never get in."
Bertke said he prefers to camp at Grand Lake because of its peaceful atmosphere and clean facilities. He also said the park offers many activities for children, such as fishing, nature hikes, movies and crafts.
"Anything that has to do with the outdoors ... my grandkids love that," he said.
Bertke said another favorite aspect of the park is the people.
"You see a lot of people you meet over the years," he said. "It's always nice to visit."
Bertke, who is an avid fisherman, admitted he won't fish in Grand Lake when the weather starts warming up due to the algae problem. He then fishes at Lake Loramie.
"I don't touch it," he said of the water. "I haven't put my boat in the water in two years."
State officials on Thursday put algae toxin warning signs up around the lake after water samples taken this week showed microcystin (toxin) levels ranging from 38.6 parts per billion to 10.7 ppb. The state threshold is 6 ppb. This will be the third year Grand Lake is under a state advisory for its water quality.
However, Bertke said his son has been fishing on the lake every weekend. His granddaughter last weekend caught a bass about 12 inches long.
St. Marys native Toby Hertenstein and his family, who also were set up Thursday, said they have been camping at Grand Lake for the last 10-11 years.
"We try to come out every year," he said. "It's quiet, close to home and we just think it's a very nice campground ... I grew up camping here."
The Hertensteins also noted the safety of the campground, saying they can let their kids run and play without worrying about them.
Campers Bev and Ron Bruna and Pam and Denny Stephenson said they travel every Memorial Day from Dayton to visit friends in the area.
"The people and the hosts are always so nice," Bev Bruna said. "Everyone is very friendly."
Bruna said she prefers Grand Lake to other state parks.
"It's always been well maintained," she said. "Of all the state parks, it's the best. And I like it too because there's a lot of trees. A lot of state parks are losing their trees."
Camper Roy Gibbs of St. Marys said despite the lake conditions, the park always has good fishing.
"We love it here," he said. "It's beautiful and it's safe."
The campers all agreed the lake condition is unfortunate, but it wouldn't stop them from camping and enjoying the park.
"It needs to be fixed," camper Pat Stephenson said. "People with houses on the lake will never sell, and it's sad for all the businesses."
State officials in recent years have discounted camping rates at Grand Lake due to its algae problems. Miller said the park now offers a 25 percent discount, except for holidays. Camping rates are $26 for an electric site and $22 for a non-electric site.