Friday, May 25th, 2012
Minster rallies for win in fifth inning
Division IV Regional Baseball at Springfield
By Gary R. Rasberry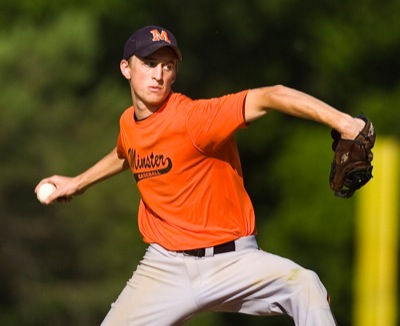 SPRINGFIELD - Just when it looked like the season was slipping away, Minster's baseball team took advantage of three South Charleston Southeastern errors in the fifth inning and moved a step closer to defending their state baseball championship with a 6-3 win over the Trojans in the Division IV regional semifinals at Davidson Stadium in Springfield.
Minster (23-6) will face Lehman today at 5 p.m. for a trip to the state tournament at Huntington Park in Columbus. The Cavaliers (22-5) defeated Cincinnati Christian 6-2 in the first semifinal on Thursday.
"Again, it's Lehman," said Minster's coach Mike Wiss, whose squad rallied to beat the Cavaliers 8-7 last year in Springfield's regional final. "I know what Lehman is going to bring. They are going to bring a lot of energy and intensity. That's what they do and that's (Lehman coach) Dave King. Dave's a great man. Lehman will be good tomorrow and Minster will try and be as we have been and maybe a little bit better."
Minster got two runs in the second inning when Ryan Hoying tripled in Devon Poeppelman and later scored on a wild pitch. However, Southeastern (20-10) wasn't buying into the mystique of the defending state champs.
Wildcats' starting pitcher Doug Huber had just one rough inning, that coming in the fourth when the Trojans scored three times after two outs. Jordan Hitt walked and Preston Snodgrass singled to put two on for Duncan Mercer, who lofted a fly to rightfield that cleared the bases after Ryan Hoying could not make the diving catch. Dean Mohler later drove in Mercer to give Southeastern a 3-2 lead.
Hitt, who has averaged two strikeouts per inning this season, worked out of a fourth-inning jam when Minster had the bases loaded but was unable to score.
Minster found some offensive momentum in the fifth inning. Jay Eilerman led off with a double to rightfield and went to third after a sacrifice bunt by Austin Knapke. Adam Niemeyer tied the score for Minster with an RBI single. Poeppelman then lofted a fly to leftfield that looked to be the second out, but the ball was dropped by Austin Snodgrass, leaving the Wildcats with runners on first and third. Huber then dropped a perfect squeeze bunt to bring Niemeyer home for the go-ahead run. Poeppelman later scored after a passed ball and Lehman error.
"The fly ball to left was a huge play, and that gave us an extra run with the ground ball (error) at second," said Wiss. "That's a lot of what baseball is. Bobby Knight used to say the team that makes the least mistakes wins. When someone makes a mistake, you have to take advantage."
That was more than enough of a cushion for Minster's relief pitcher Austin Knapke, who took the mound in the fifth. Getting defensive help from little brother Andrew on a pop-up that turned into a double play, the senior Knapke scattered two hits and struck out three over the final three innings to get the win.
"Doug did what Doug does, he was pretty good two times through the order," said Wiss. "Austin has been coming in in relief of him. ... We played pretty good defense today (no errors). Andrew Knapke's double play pop-up catch was a pretty big play."