Wednesday, May 9th, 2012
New camping zone gets first OK
By William Kincaid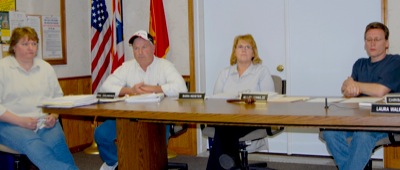 MONTEZUMA - Developer Rick Uppenkamp's plan to establish a new area for recreational campers in Franklin Township came one step closer to fruition on Tuesday night.
Franklin Township Zoning Commission members in a 2-1 vote recommended changing the zoning of 18 acres of Uppenkamp's land near Behm Road from medium density to resort commercial. The final decision will be made by Franklin Township Trustees.
About 10 people - many neighbors of Uppenkamp's land - attended the zoning meeting to address concerns but were largely supportive of the developer's request.
Uppenkamp would like to set up a camping area and would need a conditional use permit from the Franklin Township Board of Appeals, zoning inspector Steve Keithley said. The principal use of resort commercial zoning is agriculture but conditional uses include campgrounds and commercial entertainment facilities.
The 18.21 acres is located adjacent to Hecht's Landing campground/manufactured home park and Grand Lake St. Marys State Park land. The area includes Big Chickasaw Creek.
Uppenkamp on Tuesday night was asked by an attendee how his current plan differs from a previous plan that township voters struck down in May 2010.
Uppenkamp said he only plans to facilitate campers - likely 30 to 35 - on the northeast corner of the land in question, not duplexes like he previously planned.
Attendee Chris Grimm asked how people would reach the campground. Uppenkamp said he would have to put in a drive.
"How many people are going to come down Behm Road?" she then asked.
There also were questions about sewage load and a pond being dug.
Uppenkamp said the EPA would not allow campers to tie into the sewer system if it doesn't have enough capacity. He also said he isn't sure if he's going to fill the planned fishing pond naturally or connect it to Big Chickasaw Creek.
Attendee Lauretta Ware said she was worried about golf carts driving by late at night, dust and the possibility of theft.
Uppenkamp said he would be more than willing to create a privacy fence or mound for Ware.
His ultimate goal is to provide a place for kids to play and fish, he said.
Grimm said a camping area would not be good for the values of nearby homes but said she understands what Uppenkamp is trying to accomplish. She and others are trying to be good neighbors, she added.
Zoning members Paul Dahlinghaus and Sara Keister voted yes to recommend a zoning change while Chris Riemesch cast the lone no vote. One zoning position remains vacant since Ray Musser moved out of the township.
Zoning chairman Allan Schulze only votes if there's a tie.
Riemesch told the newspaper the township has a land-use plan, something done through surveys years ago, and she didn't feel Uppenkamp's request was in line with what the community has said it wanted.