Wednesday, June 20th, 2012
Unmanned boat spurs search
Officials hunt for lake resident after pontoon found adrift
By Margie Wuebker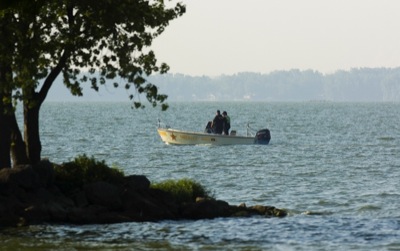 UPDATE:
The body of James Price Sr., 59, of the Montezuma area, was found by searchers in Grand Lake near Riley Bay at 2:20 p.m. today, according to officials with the Ohio Department of Natural Resources. Price reportedly went fishing Tuesday and never returned. His unmanned pontoon was found at 6:30 p.m. Tuesday near the north shore close to Wright State University-Lake Campus in Celina. Officials say it's too early to give a cause of death or other details. An autopsy is pending.

GRAND LAKE - Search efforts continue today for a Montezuma-area man whose boat was found afloat on Grand Lake on Tuesday night.
James Price Sr., 57, a resident of Behm's Landing, apparently went fishing alone Tuesday and never returned home, according to the Mercer County Sheriff's Office.
A boater spotted Price's unmanned 22-foot pontoon adrift along the north shore in the area of Wright State University-Lake Campus and contacted authorities about 6:30 p.m.
John Wisse, spokesman for the Ohio Department of Natural Resources' Division of Watercraft, said an officer responded to the scene and found the pontoon's rear safety gate open.
"Our officer discovered some personal items like a wallet and sunglasses," Wisse said. "But we did not find anything to explain what might have happened."
After running the watercraft's serial number and talking with members of the Price family, authorities searched the lake from 9 p.m. to midnight.
"Our efforts resumed today at 6 a.m. with seven boats," he said.
The general search area covers a 3- to 4-mile area between Safety Island and Riley Bay near the campus. The perimeter could change as the situation unfolds, according to Wisse.
Boats from ODNR, the Division of Watercraft, the sheriff's office and Celina, Montezuma and St. Marys Township fire departments are involved in the search with personnel checking the water for anything related to Price or the pontoon.
"It's early ... We will be reviewing our efforts throughout the day and making decisions on how to proceed," Wisse said.
It is possible site scanner sonar could be brought in to aid in the search, along with additional manpower.
"We are analyzing water and weather conditions from last night ... things that determine where we should be looking," Wisse added. "We are not being presumptive at this point - we are looking for a missing boater."