Wednesday, June 20th, 2012
Panthers get sweep of Flyers in ACME
By Mark Ruschau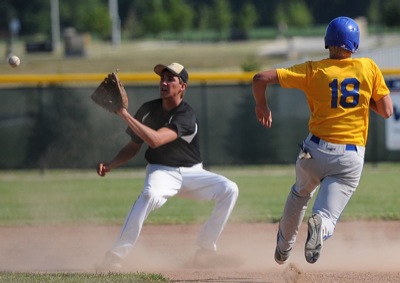 ROCKFORD - The Parkway Panthers combined two great starting pitching performances and manufactured just enough runs to sweep a doubleheader by scores of 4-2 and 2-1 from the Marion Local Flyers in Mercer County ACME play Tuesday night at Don Black Field.
In the opener, Parkway starter Austin Adams overcame a jittery first three innings, settled down and posted a complete game victory.
In the first inning, Adams walked lead-off batter Jordan Rethman, who stole second and third, and then came home on an errant throw to third by catcher Kameron Roehm.
After his teammates gave him a two-run lead, Adams coughed up the lead, giving up the tying run in the third. Ethan Nietfeld led off with a single, went to second on a wild pitch and then to third on an error by the Parkway shortstop before scoring on Adams' second wild pitch of the inning.
That was to be the extent of the scoring for the Flyers as Adams would shut them out over the last five innings. Adams worked out of a a major jam in the top of the sixth as the first two Flyers reached, but Adams got Troy Homan to fly out and induced Peyton Kramer to bounce into an inning-ending double play.
Parkway scored what proved to be the game-winner in the top of the fourth. With one out, Roehm walked, went to second on a wild pitch and scored on a two-out double by Jordan Schmitt.
The Panthers played add-on in the top of the fifth. Cain Pontsler led with a single, went to third on an errant pick off throw and scored on a bounce by Jack Stephenson.
We have trouble getting the big hit here in the early part of the season, and it was nice to see us come with up a couple of base hits," said Parkway's coach Kirk Stephenson. "We were able to take advantage of a couple of their mistakes, we were opportunistic tonight and that was something that we needed."
"We have not been a very good defensive team this summer and it has cost us some games," said Marion Local's coach Jeremy Hess. "With that said, our effort was better tonight, than it has been all season long and hopefully we can continue to get this kind of effort."
In the second game, the two starting pitchers, Parkway's Cain Pontsler and Marion's Connor Unrast, matched pitch for pitch. The difference was that the Panthers were able to take advantage of their offensive chances, and Marion Local was not able to cash in on a late-inning chance that cost them.
Pontsler, in pitching the complete game, allowed one run on five hits. Unrast was just as good, for he also pitched a complete game, allowing just two runs on two hits.
Parkway got to Unrast in the first after Jordan Stephenson was hit by a pitch, stole second and came home as Unrast uncorked two wild pitches.
The Flyers tied the game in the third as Rethman walked, stole second, went to to third on a bounce out and scored on a wild pitch,
Parkway scored the winning run in the fourth as Cody Depweg doubled and scored on a single by Roehm.
The Flyers had a golden chance to score in the top of the sixth. Blake Benton and Kyle Mescher singled to lead off the inning, Both runners advanced into scoring position by a sacrifice bunt by Homan. At this point Pontsler bowed his back inducing Kremer to bounce into a fielder's choice at home, and got Hess looking at strike three.
"Cain did a nice job of mixing his pitches tonight," said coach Stephenson. "He did a great job of getting out out of that jam in the sixth (with) the ground ball and the pop up that he needed, and the defense made the plays."
"Connor pitched a great game," said coach Hess. "We got a couple of hits there in the sixth, got a great sacrifice bunt to get us a chance, but we were just unable to come up with the big hit but again the effort was there."