Saturday, June 23rd, 2012
Dry weather stressing firefighters and farmers
By Nancy Allen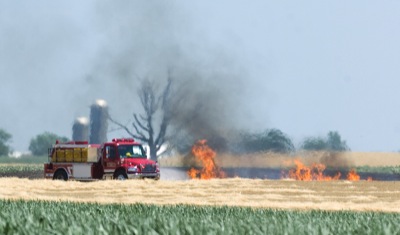 Ongoing hot, dry weather is giving farmers and firefighters a rough time.
More than a dozen mostly wheat field and ditch fires have been reported in Mercer County this week, the 911 log shows. None have been reported so far in Auglaize County.
Backyard burn barrels and piles also pose a danger, Celina Fire Department Lt. Jon Schumm said.
"With it being so dry, it doesn't take much of anything to start one," Schumm said. "When it's this dry and it gets windy like it did this week, it just takes off and the wind pushes it all over the field."
Wheat field fires that start during harvest or straw bailing aren't uncommon and most times can't be helped, Schumm said. If a piece of farm equipment is hot enough or throws a stone that creates a spark, a fire can start.
"For them, unfortunately, all it takes is one little hot thing," he said.
Schumm urged the public to think twice before burning anything outside.
"You hope a lot of people are thinking about it when it's dry and windy that they have to be careful," he said. "I think a lot of people out in the country with farm fields around them know they shouldn't burn when it's this dry."
Farm Service Agency officials say overall rainfall has been spotty.
Chris Gibbs with the Mercer County FSA office said border counties along the Indiana state line are fairing the worst. Crop stands have good color but are extremely dry, he said.
"The crop doing the worst by far is our hay crop," Gibbs said. "Mercer County grows approximately 17,000 acres of hay for livestock, and it's not recovering from the second cutting, which is serious."
Beyond that, corn is showing the most stress, but that is the nature of corn, he said. Soybeans can sustain longer periods without rain before experiencing significant yield losses.
Both Gibbs and Auglaize County FSA director Anita Green said crops can rebound and make up a lot of ground in a hurry if rains come. If significant moisture is not seen in the next two to three weeks, that could change.
Green said Thursday's rain, ranging from 0.1 to 1.2 inches, was a blessing for farmers who received it. Areas fairing the best in her county are in the south central, southeast and northwest.
"Some got more than others, and some none at all," she said.
A bright spot in both counties is the wheat crop, which ag officials say is the best they've seen in many years. Harvesting of wheat also is about 2 1/2 weeks earlier allowing farmers to plant double crop soybeans, they said.
Montezuma area farmer Chuck Schwieterman said he's not worried yet about his dry crops; he's seen it before.
"The soybeans are still growing, but slowly, and the corn seems like it's growing a little bit, but we need a good drenching rain," Schwieterman said. "But I am concerned that we've got a dry forecast for the next 10 days."
Schwieterman said crop genetics that improve drought resistance have come a long way and help a lot.
"They (crops) can stand it better, but it still takes rain to make grain," he said.
Celina area farmer Dennis Howick said he's worried.
"They're suffering something fierce," Howick said. "They could also rebound, but we have to get some substantial rain in the very, very near future."
According to the USDA's drought monitor map for Ohio most recently updated Thursday, Mercer and Auglaize counties are in a moderate drought.
The rainfall for May was 2.59 inches, and so far in June, it's been just 0.36 inches, said Howick, who records rain totals at his farm east of Celina. The 30-year average for June is 2.63 inches. The seven consecutive days of 90 degree-plus weather also has made it worse, he added.
"We're getting desperate," Howick said. "It's way past being funny any more."
Unfortunately, more dry weather is expected.
"It looks like for July we'll see a continued trend for below normal precipitation," Mike Kurz, a meteorologist with the National Weather Service in Wilmington, said.
Information on Ohio's open burning laws can be found at www.epa.ohio.gov/dapc/general/openburning.aspx.