Saturday, June 30th, 2012
Mercer County Fairgrounds takes direct hit
By Margie Wuebker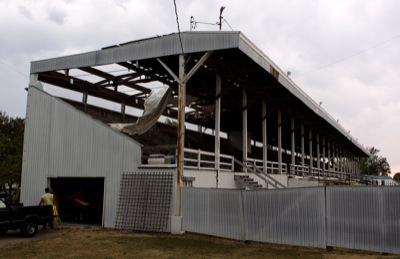 The Mercer County Fairgrounds resembled a war zone Friday afternoon after strong winds toppled trees onto trailers and ripped off a portion of the grandstands roof.
Two festivals also incurred heavy damages, leaving organizers scrambling to clean up debris, find alternate power and raise fallen tents.
Lisa Boroff and members of her family were camping at the fairgrounds when the sky darkened and the wind pelted her Dutchman travel trailer with dirt, stones and twigs.
"It looked like night instead of only 3:30 in the afternoon," she said. "The wind was blowing so hard we could barely get the trailer door open."
Family members ran toward a nearby restroom.
"We knew there were folks across the way who stayed put when the storm hit," Boroff added. "We could hear trees falling and we hoped for the best."
At least eight large trees were downed at the fairgrounds, including one that fell across two trailers and two vehicles. An unidentified woman reportedly crawled from the wreckage and was transported to an area hospital.
Fair Director Steve Schulte was amazed no one was seriously injured.
"Much of the roof on the grandstand is gone," he said. "And the milking parlor out by the dairy barn is gone."
The Mercer County Fair begins Aug. 10.
Paul Donovan, the chairperson for this weekend's Freedom Days in Celina, wandered the area near Lake Shore Drive looking at downed tents and overturned port-a-pots.
The festival, a collaborative effort sponsored by the Celina VFW, American Legion, Moose and Eagles, was set to open at 5 p.m. Friday with music by Erastus.
"If it had to happen, the storm coming in before 3:30 p.m. was probably good timing," Donovan said. "We always have a bid crowd on Friday night but it was too early for that."
A member of the Mustang Sally sound crew was injured when framework holding sound and light equipment fell toward the stage. He was doing sound checks in preparation for the group's later show.
Alternate power was brought in Friday evening and the committee made the best of the situation.
"We had people coming to the festival tonight to eat because restaurants were closed due to the power outage," Donovan said late Friday night. "We cooked on grills and our lights are powered by generators. Folks had a good time given the circumstances."
Planners hope to get things up and going by noon today. Mustang Sally stayed in the area overnight and will play an afternoon show. Today's schedule includes evening performances by The Danger Brothers and a 10 p.m. fireworks display.
Organizers of the annual community picnic in St. Henry also were dealing with a mess.
Event chairman Denny Huelsman said three of the big tents on the main part of the grounds were blown down during Friday's storm. None of the rides were damaged and Huelsman hoped all events would go on as scheduled today and Sunday.
In Coldwater, many trees were uprooted in Community Park. Park maintenance manager Greg Pohlman said cleanup began Friday so the town Little League tournament could take place this morning.
North of Coldwater, a workshop under construction near the home of Tom and Lisa Severt, 5271 state Route 118, was severely damaged. Lisa Severt said an Amish construction crew was putting up siding on the building when the storm approached. No one was injured.
Foundations Behavioral Health Services along state Route 29 west of Celina lost a portion of its roof, as did the neighboring state garage. Several other businesses in the Grand Lake area sustained damage.
Leah Bruns, a nursing supervisor at Mercer County Community Hospital in Coldwater, said patients came to the emergency department seeking treatment for minor injuries as a result of the storm. No one had been admitted as of 6:30 p.m., but people were still being treated.
An apparent lightning strike touched off a barn fire Friday shortly after 4 p.m. in the 9800 block of Mercer-Auglaize County Line Road near Mendon. Fire departments from Celina, St. Marys Township, Spencerville and St. Marys City provided mutual assistance.
Strong winds fanned the flames and the barn was fully engulfed by the time fire trucks arrived on the scene, according to Mendon assistant fire chief Darrel Etgen. Much of the large hip-roof structure had fallen.
Two horses escaped, but some pigs perished before they could be rescued. Owner Mike Geurkink also lost pieces of farm machinery.
Firefighters suspect lightning as the cause. A neighbor watching the progress of the storm saw a lightning bolt hit the barn, Etgen said.
A dollar figure has not been determined. Geurkink reportedly had insurance.
St. Marys resident Kaitlyn McBride was celebrating her 20th birthday with friends at Chakeres Celina Cinemas watching "Magic Mike" when the power went out.
Employees and a handful of movie-goers waited out the storm sitting against interior walls in the dark.
"We came out into the lobby and watched part of the marquee fall onto the sidewalk out front," McBride said. "This is definitely one birthday I am not going to forget...and we have letters from the marquee as keepsakes."

- Standard reporter Gary Raspberry contributed to this report.