Thursday, June 7th, 2012
Busch dominates final 16 laps
Prelude to the Dream at Eldora Speedway
By Mike Ernst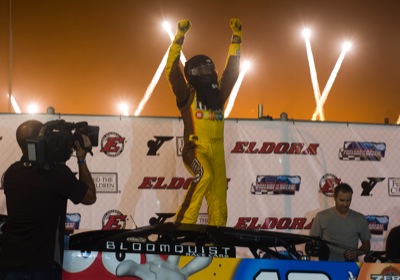 ROSSBURG - With four top-five finishes in five career starts in the Prelude to the Dream, Kyle Busch has been close but has never quite been able to find his way to victory lane in the annual charity event at Eldora Speedway.
Last night that all changed.
"Rowdy" inherited the lead when Kasey Kahne crashed just past the halfway point of the 40-lap main event, and Busch then dominated the final 16 laps to pick up his first win in Eldora's premier event.
"This is cool," said Busch, who finished 2.283 seconds ahead of runner-up Tony Stewart. "This is what it's all about when you go dirt racing. It's a lot of fun. I can't say enough about (team owner) Scott Bloomquist and all these guys. They give me great race cars every time we come here and I've torn them up a few times, including tonight (in qualifying). We were able to come back through, get a good heat race, get a good starting spot for the main event and run up front there with the leaders all night."
Clint Bowyer was unable to pull away from Kahne and Busch as the top three basically ran nose-to-tail as lapped traffic approached on lap 15.
On lap 21 with Bowyer struggling to pass the lapped machine of David Gilliland, Kahne dove below Bowyer in turn one and slid up into the race leader while in turn two, bouncing Bowyer off the concrete retaining wall.
A lap later Busch made the same move and again, Bowyer made contact with the outside wall.
Bowyer's car, which he owns and is normally driven by Jonathan Davenport, then slowed, forcing Bowyer to retire to the pit area for the night.
"I just kind of got used up there. It is what it is," Bowyer said following the race. "I hate it for these guys (crew). I'm here for fun, but these guys work so hard on this car. It was brand new and now it's pretty much destroyed right there, at least the body, it's all pretty much cosmetic on these things. I guess karma caught up with us a little bit, which is a little disappointing. But, oh well, it was fun."
Once out front, Kahne stretched his lead before running into trouble on lap 25. Former NASCAR Sprint Cup Series champion Bobby Labonte was running in the middle of the field before spinning into the turn three wall and coming to a stop on the track.
Kahne, who was battling through lapped traffic, never saw Labonte and slammed into the stopped machine, spinning Kahne around and ending his night.
"I saw him but there was no slowing down," Kahne said. "That far down the backstretch, it's like you're on ice. I just slid across and nailed him. It was actually a pretty hard hit. I was surprised how hard it was. It's discouraging because I thought we had a good shot at winning."
Busch restarted with the lead and was never seriously challenged over the final 16 laps.
"When Kahne had his mishap, we inherited the lead and just were able to set sail from there," Busch said. "I felt like Kahne had a fast car tonight. He was probably the class of the field. Crazy, freak deal there with Kahne sliding into the No. 44 (car of Labonte). I don't know if he didn't see him or what. They called the caution a little late and I bet he didn't even have time to react. From there, we had 16 laps to go and it felt like the longest 16 laps of my career here at Eldora."
Stewart, a three-time winner of the Prelude, held off Austin Dillon for the second position while World of Outlaw Sprint Car star Donny Schatz recovered from a early accident to finish in fourth place, while Ryan Newman rounded out the top five.
"We had another first-time winner tonight. That's what the fun part is," said Stewart, who like the rest of his Sprint Cup counterparts had to commute between a test at Pocono (Pa.) Raceway and Eldora. "There's a lot of stuff going on. Five days in a row at Pocono, and for these guys to leave practice at the end of the day today, fly here and race, and then fly back to Pocono tonight and be back in cars at Pocono at nine in the morning, I think that speaks volumes to what this event is all about and what it means for these guys to be here. I know as a promoter and a fellow driver in the Cup series, I'm honored they were that committed to doing this with us tonight to benefit such a good cause as Feed The Children. Really, 'honored' is the best word I can think of to describe it. It's truly an honor with the week we've got this week at Eldora and Pocono."
Dillon, who competes full-time in the Nationwide Series, drives the late models whenever his schedule allows, and with an off-weekend for the Nationwide Series, Dillon used the race on Wednesday as test for the $100,000 to-win Dream this weekend at Eldora.
"I got to do this last year and had a blast. Tonight was a really good night for us. It was tough racing out there, really," Dillon said. "We were a little loose for the feature. Actually, it wasn't loose so much as I just couldn't get a lot of speed coming off the corner. We're going to work on that.. And it was a good test session for the Dream coming up this weekend. I can't wait to run it."
Schatz was glad he was in a full-fendered stock car and not his normal ride in the open-wheel winged sprint car.
"It's a good thing they are stock cars and they've got fenders. I think I hit everything there was and I was bouncing off guys. If you did that in a Sprint car, you'd be laying out in the weeds," Schatz said. "It was a fun race. I wish I could've had a restart there at the end. When you drive Darrell Lanigan's race car, you know you've got something really good underneath you. It took me all night to figure out what to do with it when the track finally cleaned off. It was really fun to drive. I didn't know the STP car was this beat up but, hopefully, we can try again next year."
Rounding out the top 10 were Aric Almirola, Cruz Pedragon, Dave Blaney, Ty Dillon and Justin Allgaier. Each top-10 finisher will have semitrailer full of food delivered to their hometown or a city of their choice from Feed The Children to help fight teenage hunger.
Eldora officials are right back at it this weekend with the annual running of the richest event in dirt late model racing, The Dirt Late Model Dream (winner receives $100,000.