Monday, July 2nd, 2012
Power returns, area residents begin cleanup
From staff reports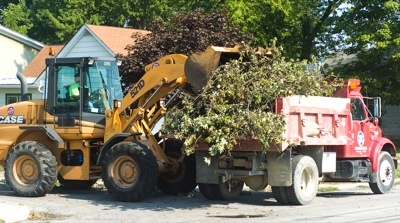 STAFF REPORTS
newsdept@dailystandard.com

Friday's line of storms began west of Chicago and included damaging winds that affected communities all the way to the Atlantic Coast.
Power was knocked out to 1 million customers in Ohio; most communities in Mercer and Auglaize counties had electricity restored Saturday afternoon.
Damage to buildings and roofs was widespread, and cleanup of debris from toppled trees continued today. No serious injuries were reported.

Celina
City crews this morning were out cleaning limbs and other debris littering yards and streets in Celina after Friday's severe storms, a job that public works superintendent Joe Wolfe said will take at least a week to complete.
Wolfe this morning said city employees will begin collecting downed limbs and branches on Main Street and work from there.
Residents are asked to place reasonable pieces of organic material - no longer than 12 feet - at the edge of their properties for city crews to gather.
"We are going to be out probably most of this week picking up and grinding and hauling away," Celina Mayor Jeff Hazel said this morning. "We don't haul away the big stuff either."
Hazel advised residents to contact contractors about removing fallen trees.
"There's a tremendous amount of storm damage with (the trees)," Hazel said.
He also recommended that property owners document any damage to their homes and call their insurance companies.
Wolfe said city workers will continue collecting materials throughout the week to give residents enough time to have trees and branches cut and moved to the side of the road.
Residents with questions about the cleanup effort may call the city at 419-586-2311.
Hazel and Wolfe said property damage could have been much worse.
"As a city, we dodged a bullet," Hazel said, adding no serious injuries occurred from the storm and neighbors assisted one another. "They've been really helping each other out, which is really what community is all about."
According to Hazel, about five trees in Eastview Park were destroyed during the storm.
Wolfe said city workers will focus on clearing streets and yards of debris and maybe erecting the downed outfield fence at Westview Park where the Grand Lake Mariners play.
With the Mercer County Fair slated to begin Aug. 10, repairs are under way at the storm-damaged fairgrounds. Winds took off a large portion of the roof of the grandstand Friday and the milk parlor was destroyed. Several trailers and automobiles were crushed by fallen trees.
Neither outgoing fair director Steve Schulte nor interim director Cara Muhlenkamp were available for comment this morning.

Coldwater
Scared and crying children were wrapped in beach towels and huddled together in the bathhouse at Coldwater Memorial Pool on Friday afternoon. Large trees could be heard cracking and falling to the ground as parents arrived and raced from the parking lot to retrieve their frightened children.
Six large trees fell in the southwest corner of the park - some less than 50 yards from the public pool.
Memorial Park received the brunt of Friday's storm with at least a dozen very large oak and hickory trees taken down, village manager-engineer Eric Thomas said this morning as he surveyed the park damage.
"Some village property received damage, including the roof of the old street department garage, and other trees were down throughout town, but the park got the worst of it," he said.
Village cleanup started right away, he said.
"Volunteers arrived Friday night already to help clean up the park and we hit it hard Saturday morning with park workers and volunteers working. We called in professional tree cutters for the larger trees," Thomas said.
Village crews will be working throughout the day and the remainder of the week to clean up debris from the storms, he said.
Residents who have tree limbs down should have them out to the street by Thursday for pickup.
Electrical power was very spotty and sporadic throughout the weekend, with most of the village back to normal this morning, he said.
Some businesses without a backup generator had to dispose large amounts of food.
Krista Fink, human resources clerk at Chief Supermarket in Coldwater, said the store closed about 4 p.m. Friday and did not reopen till late Saturday morning. Employees immediately took fresh meat from the meat case and placed it in the large walk-in freezer. However, the contents of frozen food cases had to be dumped due to health standards. New supplies were brought in to restock those cases.
"Chief grocery store lost some items from lack of power but a few businesses were able to remain open and those that were open were very busy. There were no reported injuries from the storm and we're fortunate in that aspect," Thomas added.