Tuesday, July 3rd, 2012
Proud of Old Glory
Flags spread through Celina subdivision
By Betty Lawrence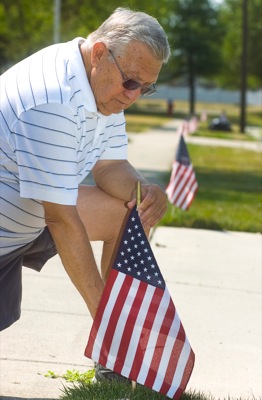 Old Glory will proudly wave during the July Fourth holiday at nearly 150 residences in Celina's Bruns subdivision.
What started out as a grassroots effort by a Celina man has turned into a united effort that involves an entire neighborhood and nearly a dozen people.
"I put out flags over the Memorial Day holiday at 52 homes along my street and the response from everyone was great," said initiator Gene Reichert.
Reichert, 75, is a U.S. Air Force veteran of the Korean Conflict and patriotism runs deep in his veins.
Nine committee chairmen (families) have come forward after seeing Reichert's patriotic token on Memorial Day. Throughout the neighborhood, volunteers will place flags in the area between residents' sidewalks and street.
"Each chairman will be responsible for their area. They will put them out just prior to the holiday, take them down right after and then store them until the next holiday," Reichert added.
The group also will put up the 11-x-18-inch nylon flags on Labor Day and Veterans Day.
"I just happened to think about doing this as a way to pay respect and show pride for our military and country," Reichert said.
The Celina Veterans of Foreign Wars contributed to the project.
"Gene (Reichert) approached the Celina VFW about the flags and our membership wholeheartedly approved the donation," added past State VFW Commander Mort Ward. Reichert also is a former commander of the Celina VFW.
"It's always a good thing to promote patriotism, something Mercer County is very good at. Also, this comes at a time when the Supreme Court ruled just last week against the Stolen Valor Act."
The Stolen Valor Act prohibits a person from falsely claiming that he has been awarded a military honor.
The case heard by the High Court involved a California man who pleaded guilty to violating the act but claimed that his false statements were protected by the First Amendment right of free speech.