Tuesday, July 3rd, 2012
Wapak clinches spot in district tourney
Auglaize County ACME Sectional Tournament
By Mark Ruschau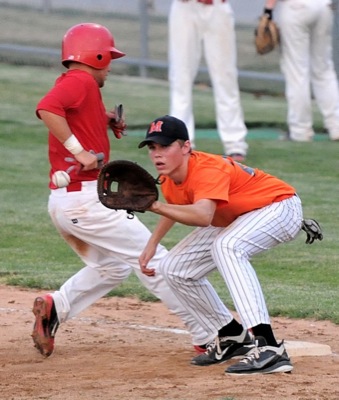 MINSTER -The Wapakoneta Redskins used a late-inning rally to defeat the Minster Wildcats in the winner's bracket finals of the Auglaize County ACME sectional tournament on Monday night at Hanover Street Park.
In the opening winner's bracket game, the Wildcats benefited from a trio of RBI singles by J.R. Nixon and a great pitching performance from Devon Poeppelman to defeat St. Marys 4-2.
The Redskins advance to next week's Auglaize-Shelby County district tournament at Hanover Street Park. The elimination bracket begins tonight as the New Bremen Cardinals will take on St. Marys. The winner between the Cardinals and Roughriders will face Minster on Thursday for the other district tournament berth.
During the nightcap, Minster trailed 3-1 entering the fifth inning before scoring three runs to take its first lead of the game. John Baumer led off with a single and Max Huber was hit by a pitch before Jay Eilerman singled to load the bases. Andrew Knapke hit a ground ball to third, where Redskins' third baseman Chase Culver threw the ball wide of home plate, allowing Baumer to score. Poeppelman hit a sacrifice fly and Nixon singled to plate the other two runs as the Wildcats charged in front 4-3.
Wapakoneta tied the game in the top of the fifth as Chandler Kaeck was hit by a pitch and went to third on a double by Marshall Gerlach before Andrew Hines' fly ball drove him home.
The Redskins blew the game open by scoring four times in the bottom of the sixth. Hines had the big blow of the inning as he blasted a two-run double to the fence in left.
Kaeck, who pitched in the Division II state final during the spring for Wapakoneta, came on in relief and struck six of the last seven batters he faced to end the game.
"It seemed like Wapak had guys on base every inning. We gave up way too many free bases, walking four guys and hitting four more," said Minster's coach Scott Sherman. "We had a feeling all night that they would come up with a big inning. In the sixth we put runners on with a hit batter and a couple walks, and they were finally able to come up with the big inning that they needed to blow the game open."
In Monday's opener, Poeppelman was outstanding on the mound for Minster as he surrendered two runs on four hits with seven strikeouts in garnering the complete-game win.
"Devon threw a phenomenal game," said Sherman. I tell him all the time that when he has good command, like he did tonight, he does a great job of throwing his off-speed stuff and he was able to keep their hitters off-balanced."
"Poeppelman threw a great game," said St. Marys' coach Allan Huber. "We told the guys before the game that we needed to come into this game with great intensity because we were facing a great pitcher and we just did not come ready to play with the intensity that we needed."
Minster was able to take advantage of control problems by St. Marys' starting pitcher Codie Deaton.
In the first inning, Knapke walked and went to third on a Poeppelman double before scoring on a bounce out by Nixon.
In the third, Eilerman was hit by pitch to start the inning and advanced to second on a sacrifice by Knapke before trotting home on an RBI single by Nixon.
The Wildcats scored their final two runs in the fifth. Knapke singled and Poeppelman walked before Nixon plated the first run with his third hit of the game. The final Wildcats' run scored on a double play.
"We just walked too many men tonight," said Huber. "If we do not walk those batters, we would be in better shape. But give them credit, they were able to take advantage and they came up with the big hit when they needed it."
"JR had a great game," said Sherman. It seemed like every time he came to the plate, there were runners in scoring position and he did a great job of taking the ball right up middle and those clutch hits were huge."