Thursday, July 19th, 2012
Arsonist damages restrooms
Cost pegged at $20,000 to repair park facilities
By Margie Wuebker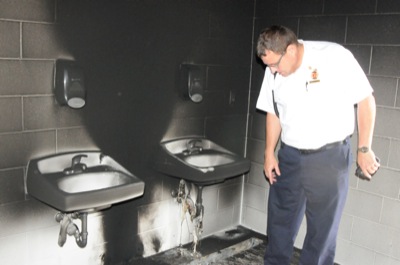 CELINA - Authorities continue to investigate two arson fires that resulted in approximately $20,000 in damages to two men's restroom facilities at Eastview Park.
They also are looking into the possibility that someone started a fire that damaged a shelterhouse earlier in the week.
"We're definitely looking at arson," Celina Fire Chief Doug Wolters said Wednesday. "Someone definitely set fire to paper towels in the plastic dispensers."
Celina Parks and Recreation employees discovered the damage shortly after 9 a.m. Wednesday and called police.
Wolters pegged damage at $15,000 to the larger building constructed in 2009 near Montgomery Field. In addition to heavy smoke damage, the fire produced enough heat to break a toilet. A lack of oxygen eventually extinguished the flames. The culprit or culprits also destroyed a fake surveillance camera that had been mounted in the building as a deterrent.
The men's restroom in a smaller building in a wooded area also was set on fire using paper towels. Wolters estimated $5,000 in damages.
Authorities do not know when the fires were set; the buildings typically remain unlocked throughout the night. Celina Police Chief Dave Slusser believes it likely occurred at night.
Tom Hitchcock, city safety service director, said the larger structure was built with funds from the Bryson Trust Fund. The smaller restroom facility had been rebuilt after last year's tornado.
Hitchcock said the block buildings can be repaired. City officials are awaiting insurance information before making repairs. The damaged restrooms remain locked at this time for safety reasons.
"We try to make things nice for people coming to the park," Hitchcock said. "And then something like this happens ... we need to catch those responsible quickly."
Authorities also suspect the possibility of arson at a shelterhouse along Lake Shore Drive behind Pullman Bay restaurant early Tuesday morning. A passer-by spotted flames shortly after 1:45 a.m. and alerted authorities. Celina police officers, who arrived first, doused flames with extinguishers carried in their cruisers.
"The fire apparently started in a trash can and spread to the outside of the shelterhouse," Wolters said. "We do not know at this point how the fire started, but it does appear suspicious."
Hitchcock said the damage to the outside can be repaired easily without significant cost.
Slusser initially thought there was a 50-50 chance of arson in the earlier fire, adding it could have been caused by someone who tossed a cigarette butt into the trash can.
"Given the fires at the park, I am looking more toward arson than an accident," he said. "Police and firefighters will continue a joint investigation."
Anyone who spotted suspicious activity in the area of Eastview Park or the Lake Shore Drive shelterhouse should call the police department at 419-586-2345 or the fire department at 419-586-2127.