Tuesday, July 24th, 2012
Hartings crowned Miss Lake Festival
By Betty Lawrence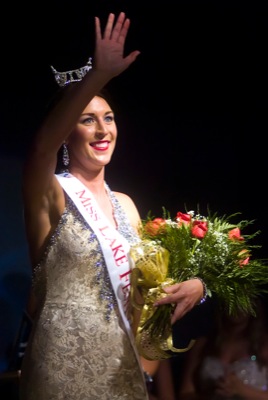 CELINA - Samantha Hartings of Coldwater was crowned 2012 Miss Lake Festival Queen in front of a standing room only crowd of 800-plus on Monday evening.
The queen and her court will reign over this weekend's annual Celina Lake Festival.
The packed room at Romer's at Westlake cheered on the contestants in three separate divisions - Miss Lake Festival, Miss Lake Festival Outstanding Teen and Miss Lake Festival Princess Camp.
Hartings, 20, a 2010 graduate of Coldwater High School, is the daughter of Marvin and Janice Hartings. She is a pharmacy major at Ohio Northern University, Ada.
In the talent portion of the pageant, which accounts for 35 percent of the score, Hartings performed an energetic dance routine to "All That Jazz" from the Broadway musical "Chicago." She took to the stage in a long, v-neck ivory gown in the evening-wear portion, and in the lifestyle and fitness category she chose a two-piece hot pink swimsuit.
Hartings also captured the People's Choice Award and Fred Thees Interview Award.
Named first runner-up was Grace Stammen, 17, a senior at St. Henry High School and the daughter of Bob and Amy Stammen.
She sang the pop country vocal "I Hope You Dance" in the talent portion, and her two-piece swimsuit was pink. Stammen chose a long red gown for the evening-wear portion.
Stammen also was tapped for the On Stage Interview Award.
Selected second runner-up was Rachel Hertenstein, 20, of Celina, and the daughter of Mike and Sheryl Hertenstein. She is a 2010 graduate of Celina High School and attends Ball State University, where she is majoring in theatrical studies.
She performed a vocal rendition of "Astonishing" for the talent competition and wore a strapless yellow evening gown. Her two-piece swimsuit was black.
Hertenstein also captured the Talent Award.
The Celina Lake Festival pageant has the long-standing distinction of being the largest scholarship pageant in Ohio. This year $16,100 was awarded to contestants in the Miss Lake and Outstanding Teen pageants. The Western Ohio Education Foundation provided $4,000 in in-kind scholarships to Wright State University-Lake Campus.
Hartings won $4,600 in awards; Stammen, $2,100; and Hertenstein, $2,000. Contestant Kelsea Eblen won the $700 Commitment to Excellence Award.
The $200 Barbara Wagner Memorial Award was presented to Dethora Hasenjager at the traditional get-together at Bella's Italian Restaurant after the pageant.
Receiving $500 non-finalist awards were contestants Rachel Lefeld, Hasenjager and Eblen.
2011 Miss Lake Festival Jena Sweigart crowned the new queen and performed throughout the night. Co-hosts were entertainer Christopher Heinz and 2011 Miss Ohio Ellen Bryan of Celina, who also performed. She was Miss Lake Festival 2008.
Miss Lake Festival Princess 2011 winner Lauren Wenning performed, and Ohio Outstanding Teen Sarah Eash of Lakewood also assisted. Recently crowned Miss Ohio 2012, Elissa McCracken, was in attendance to offer her support.
Miss Lake Festival, Miss Lake Festival Outstanding Teen and Miss Lake Festival Princess will have the opportunity to represent Mercer County at state pageants next year in Mansfield.