Tuesday, July 24th, 2012
Princess and teen pageant winners receive crowns
By Betty Lawrence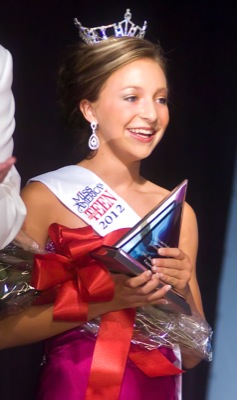 CELINA - Miss Lake Festival Outstanding Teen and Miss Lake Festival Princess Camp pageants were held in conjunction with Monday's Miss Lake Festival scholarship pageant at Romer's at Westlake.
Crowned 2012 Miss Lake Festival Outstanding Teen was Breah Anderson, 13, of Celina, the daughter of Brian and Kelly Anderson. First runner-up was Makenzie Fennig, 13, of Celina, the daughter of Mike and Sue Fennig.
The judges chose Daelynne Mauch, a student at Celina East Elementary School, as Miss Lake Festival Princess. She is the daughter of Joe and Tabitha Fleck and Benjamin Mauch. Named first runner-up was Rachel Werling, a student at St. Henry Elementary School and the daughter of Michael and Julie Werling.
Five contestants competed in the Outstanding Teen pageant. Each was judged on evening wear/on-stage question, talent, lifestyle and fitness and private interview.
Anderson performed a vocal rendition of "Get Here" in the talent portion of the event and chose a long pink gown in the evening-wear portion.
Fennig played "Knight Rupert" on the piano in the talent division, and her long purple gown was trimmed in silver.
As Outstanding Teen, Anderson earned $500 in scholarship money. Fennig received $300, and People's Choice winner Patricia Dennis received $200.
Also competing in the Outstanding Teen pageant were Bobbie McGhee and Chloe Morris.
Nine contestants competed for the Princess Camp pageant, a mentoring program for young girls who have an interest in competing in future pageants. They were judged on stage presence and an on-stage question.
The People's Choice award for the princess division went to Kameryn Cline.
Other contestants in the princess pageant were Naomi Cervantes, Sarah Jane Correll, Ella Renee DeLong, Ashtyn Huber, Kylie Miller and Isabella Mull.