Tuesday, July 31st, 2012
By Nancy Allen
Slowing it down
Walking trails, bike paths make for unique journey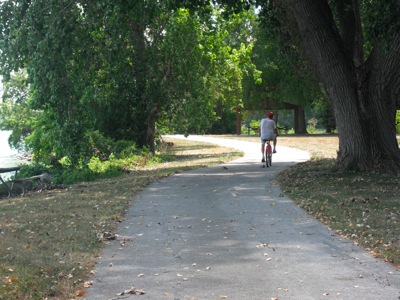 The bicycling paths and walking trails in Mercer and Auglaize counties fit a growing movement.
"The whole biking and walking trend has gotten really, really big, and we find people all the time asking 'where's the bike trail,' " Donna Grube, director of the Auglaize & Mercer Counties Convention and Visitors Bureau, said. "It's inexpensive, it's a way to get exercise and it's a chance to spend quality time with one another and catch up."
The main routes include the 26-mile Miami and Erie Canal towpath between St. Marys and Spencerville, the 4.5-mile Celina-Coldwater bike path between Celina and Coldwater, the 6.5-mile Franklin Township trail on the south side of Grand Lake, a 2-mile trail on the east side of the lake on state park land, a 1.3-mile trail on the west side of the lake on state park land and a 9-mile bicycling lane between Celina and St. Marys.
Grube said walking and bicycling trails are amenities bigger cities have had for years; it has caught on locally.
The addition of a dog park on the west side of the lake also has been a big hit, allowing owners to let their dogs run and have fun in the outdoors.
Allison Brady, director of the St. Marys-based Heritage Trails Park District, said she regularly receives calls from travelers asking about the trails and where they can park to start their biking and hiking journeys.
She and her husband Neal often take their recumbent bikes on the crushed stone canal towpath.
"There are several places where you can park and walk or unload a bike and explore the trail," she said.
Because the towpath is part of the larger state- and national-designated trail system, the area gets visitors from all over the U.S., she said. The path is loaded with trees, making it a great place to view birds and other wildlife.
"We have found people hiking the towpath in Auglaize County who are from New Hampshire and Minnesota and other states," she said.
Brady said trails have a special allure because taking a trip on a bike or walking gives the traveler a more intimate perspective of their surroundings. It also forces a person to slow down.
"It's all about the pace and being outdoors," Brady said. "For me, that's what feeds my soul."

Departure/parking areas for trails:
Miami & Erie Canal Trail (26 miles crushed stone) - Deepcut Park on state Route 66, two miles south of Spencerville; Bloody Bridge on state Route 66, five miles north of St. Marys; Lock Fourteen Park on state Route 66, four miles north of St. Marys; new parking area off High Street near the Cotton Mill in St. Marys; Kuenning-Dicke Nature Area on Lock Two Road north of New Bremen; Lock One at the village park in New Bremen at state Routes 66 and 274.
Celina-Coldwater Bicycle Path (4.5 miles paved) - In Celina at Schunck Road and U.S. 127 and in Coldwater on East Vine Street.
Franklin Township Trail (6.5 miles paved) - Zuma Park and the former Franklin elementary school, both on state Route 219 in Montezuma; a small lot in Strassburg Park on state Route 219 at Club Island Road; a lot at Gilliland Nature Sanctuary on Club Island Road; a lot on Harrison Road between state Route 219 and 219A; a lot at Franklin Township Nature Park on Karafit Road north of state Route 219; and Windy Point state park on the lake.
East Bank Trail along Grand Lake (2 miles paved) - Grand Lake St. Marys State Park lots, near St. Marys.
West Bank Trail along Grand Lake (1.3 miles paved) - West Bank Road state park and West Bank state boat launch area at the south edge of Celina.
Bicycling lane between Celina and St. Marys (9 miles paved along both sides of state Route 703) - Grand Lake St. Marys State Park Campground visitors parking lot or other state park lots along the lake west of St. Marys, or Wright State University-Lake Campus parking lot off state Route 703 east of Celina.
Additional online stories for this date
Print and E-Edition only stories for this date
• Fair changes, yet stays the same
• Mercer County housing inmates from elsewhere
• City plans crackdown on door-to-door sales
• Final action taken for proposed tax levy
• Fugitive nabbed in Indiana
• Grandmother injured in accident
• Defective wiring possible cause of fire
• Reds honoring Correll as part of 'Hometown Heroes' campaign



Photo Albums
Wednesday, March 22

Saturday, March 18

Wednesday, March 15

Saturday, March 11


Online Video
Saturday, February 4