Wednesday, August 15th, 2012
Chamber takes flash mob to new level
By Margie Wuebker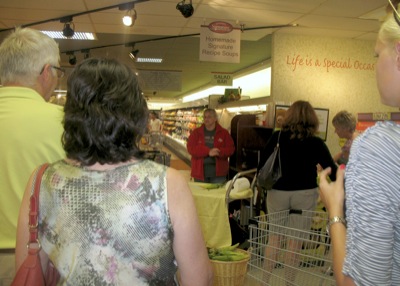 MINSTER - The Southwestern Auglaize County Chamber of Commerce launched its first Cash Mob event Aug. 8 at two local businesses - Wagner's IGA and the Wooden Shoe Inn.
The event drew a dozen participants interested in supporting local businesses while finding good deals and picking up some freebies in the process.
Scott Frey, the chamber's executive director, credits an area businessman with suggesting the idea after finding information online.
A cash mob is a new trend in which people use social media to plan organized events. Mobbers typically spend $20 at the business being mobbed, creating an immediate economic stimulus. The business often offers special promotions.
Participants at the first-time event shopped at Wagner's beginning at 7 p.m. before heading across the street to the restaurant for food and beverages an hour later.
Wagner's had special displays set up, such as produce manager Lisa Stout giving a demonstration on microwaving sweet corn in the husk. Customers also received a bag of sample products and coupons when checking out.
"We have to support our local businesses," participant Sandy Thieman of New Bremen said.
Fellow participant Tina Maurer of New Bremen agreed.
"These are the businesses that serve us week after week," she added.
Frey indicated the Minster locations were chosen since an ongoing road construction project has made it difficult for prospective customers. He plans to focus on other businesses in the Golden Triangle during coming months.
"This is a great way to bring people in," supermarket owner Wally Wagner said.
Frey said similar events are planned in the future. He hopes to have one every four to six weeks. Destinations will be announced via social media, and he expects the turnout to grow.
Anyone wishing to learn more should visit the chamber website at www.auglaize.org for more details. Future events will be listed on the website, the chamber's Facebook page (
www.facebook.com/SWACChamberGuy
) and on the Chamber's twitter account (@SWACChamberGuy). People also may stay in the loop by texting "cashmob" to 90210 for free Cash Mob newsflash service.