Tuesday, August 21st, 2012
What's for lunch?
Follow these tips for packing healthy school meals
By Amy Kronenberger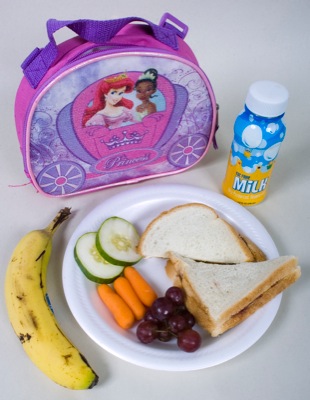 What's nutritious? What won't spoil? What will my child eat?
School is back in session in the Grand Lake area this week, and many parents will be faced with these questions as they send their children out the door with a packed lunch.
Tracy Henschen, nutrition program assistant at The Ohio State University Extension Office for Mercer and Auglaize counties, said the key is to remember all the main food groups: protein, grains, fruits, vegetables and dairy.
At least half of the grain selections should be whole grain, she said. To add variety, alternatives to bread can include crackers, tortillas, pitas, rice cakes, popcorn or dry cereal.
Henschen recommends fresh, whole fruits and vegetables for easy, healthy packing. Dried fruits and vegetables also are a good substitute. If canned products are used, make sure the salt content in vegetables is low and fruits are packed in juice or light syrup, she said.
To make vegetables more appealing, parents can add peanut butter or salad dressing for dipping.
Protein is the key to making sure the kids stay full and alert for the rest of the day, Sue Wiseman, clinical nutritionist at Joint Township District Memorial Hospital, St. Marys, said.
"Peanut butter is a great source of protein and most kids like it," she said. "It's higher in fat, but it's a healthier fat."
Fresh meat, cheese, beans, hard-boiled eggs and tuna also are great sources of protein and can add variety, Henschen said.
For dairy, Henschen recommended cheese in slices, cubes or sticks, yogurt or low-fat milk.
Dairy foods and most proteins are perishable and should be kept cold.
"They do have insulated lunch boxes you can buy that help keep things cold or hot," Wiseman said. "If you use an insulated box or pack a freezer pack with the lunch, pretty much anything is fine to pack."
Henschen suggested freezing water bottles or juice boxes to use instead of freezer packs. They keep the food cold and should be thawed for drinking by lunchtime.
Without an insulated bag or box, parents should avoid packing dairy, meats, hard-boiled eggs, sliced tomatoes and fruit and vegetable dips.
"Peanut butter is always a safe bet," Wiseman said.
Wiseman also recommended using a thermos to pack soups or stews. Henschen agreed, adding "planned-overs" from dinner the night before are often great items to pack as long as there is proper insulation.
Henschen also said to limit sugary and salty snacks to one per day and to involve kids when planning their lunch menu. Kids often look forward to lunch when they have helped pack it, she said.
For more packing tips, go to www.extension.org.