Wednesday, August 22nd, 2012
County reels in half a million for lake
Grant will help restore wetlands
By Shelley Grieshop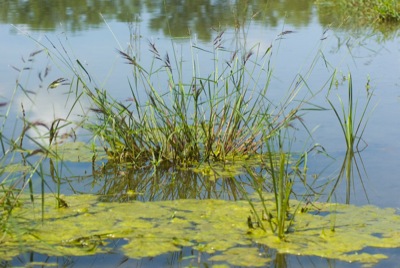 MONTEZUMA - The county landed a much-needed $534,270 state grant to buy property for a wetlands restoration project along the shores of Prairie Creek and Grand Lake.
Mercer County Commissioners on Tuesday approved an agreement with the state to accept the Clean Ohio Conservative Fund grant. The money will help the county buy an additional 40 acres of land near the established 20-acre Prairie Creek Treatment Train, adjacent to Aqua View Estates in Montezuma.
"We hope to close the land deal by November," county economic development director Jared Ebbing said Tuesday.
The treatment train is an ongoing pilot project aimed at preserving and creating wetlands to reduce the amount of phosphorus and other pollutants entering the lake from area creeks. Phosphorus - mainly from manure that runs off farm fields into area creeks - eventually enters the lake and feeds harmful blue-green algae.
The county is purchasing the Franklin Township property from Rick Uppenkamp for $880,000. Additional funding sources include $80,000 donated back from Uppenkamp, $250,000 from an Ohio Department of Natural Resources Land and Water grant, an in-kind donation of $4,500 from Mercer County Pheasants Forever and $21,680 from the local Lake Restoration Commission.
The grant funds also will fund the seeding of native grasses on 15 acres of formerly tillable land at the site. Officials hope to increase habitat protection for the bald eagle and other endangered species in the area. A pair of bald eagles have for several years nested within 800 feet of the property.
The creation of littoral wetlands, which blanketed the lake's shoreline more than 40 years ago before disappearing, will serve as a natural filter for phosphorus and other pollutants, officials said.
A raw water line pump station and alum dosing system also will be added at the site to divert some of the water from the creek through the wetlands and earthen dams before entering the lake. The pumping system will add alum to the creek water before it flows into the wetlands. Alum bonds with phosphorus and makes it unavailable to algae.
Ebbing said the county is taking advantage of the available grant dollars to determine what method is most effective for fixing the lake's algae woes.
"We'll test the water before it goes into the lake and see how much phosphorus is left," he explained. "This is another step in the process to find out what works."
The area is accessible to the public and will eventually be linked with other nature trails in the area. A public walk-through is planned at Prairie Creek in the future.