Wednesday, August 22nd, 2012
Coldwater's girls, St. Henry's boys capture county team titles
Mercer County Cross Country Meet
By Gary R. Rasberry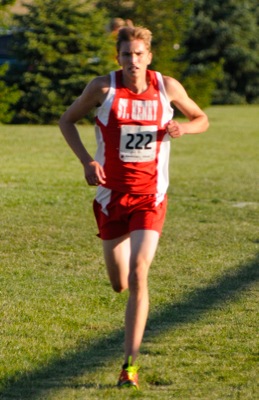 MARIA STEIN - Before Tuesday's Mercer County cross country meet, Coldwater's coach Marty Schoenherr told his top runners to stay together when they ran the course at Marion Community Park.
The Cavaliers' trio of Christina Seas and Sarah and Jill Kanney followed the instruction of their coach and crossed the finish line at the exact same time to earn a three-way tie for the race title, helping Coldwater pull past Celina in the team standings of the high school girls' race.
In the high school boys' race, St. Henry's Aaren Hemmelgarn pulled away from Parkway's Cameron Strunk down the stretch to take the boys' title and help the Redskins capture the team title by 13 points over runner-up Coldwater.
The Lady Cavaliers' trio of the two Kanneys and Seas each finished in a time of 20:56.1, over two minutes slower than Sarah Kanney's blistering mark at the OHSAA Preseason Invite on Saturday at National Trail Raceway.
Coach Schoenherr, noting that Tuesday was the second of three races in eight days for the Cavaliers - with Saturday's Rotary Invitational at the Lake Campus being the third, told his runners to pace themselves.
"Today, we were taking it easy a little bit," said the first-year Cavaliers' coach. "It's still a quality run, but it was just (taking it) a little bit easier, a little slower to keep them back so they're a little fresher for Saturday. Three races in eight days is insane, so I didn't want them pushing too hard today."
Fort Recovery's Elle Sutter finished fourth with Celina's Jenna Coon in fifth. St. Henry's Courtney Kunk, Celina's Katlin Robinson, Parkway's Allison Gaerke, Marion Local's Courtney Albers and St. Henry's Lindsay Schulze rounded out the top 10 that earn All-County honors.
Hemmelgarn got out front and pulled away as he came out of the woods and made the turn for the final straightaway. Hemmelgarn finished the 5,000-meter course in 16:37.1, 33.8 seconds ahead of Strunk, who was coming off a great second-place finish in his heat at the OHSAA Preseason Invite last Saturday.
"It was a real good race to start," said Hemmelgarn. "I was looking forward to getting my season started. Just wanted to go out and put up a good time and start off well."
Celina's Cole Mertz finished third and was followed by St. Henry's Spencer Schulze and Coldwater's duo of Riley Kuess and Jon Wenning to cap the top five. Rounding out the All-County top 10 were St. Henry's Clayton Bruggeman, Coldwater's Dan Seas, St. Henry's Scott Knapke and Parkway's Seth Rollins.
Celina swept the middle school team titles. Celina's Lauren McDonough and Parkway's Caleb Rollins took the girls' and boys' individual race wins.
Most of the area teams will be at the Rotary Invite on Saturday while Marion Local will head to West Milton to compete in the Bob Schul Invitational.