Friday, August 24th, 2012
Sweet and unique
Donut-gobbling 5K race planned in October in Celina
By Shelley Grieshop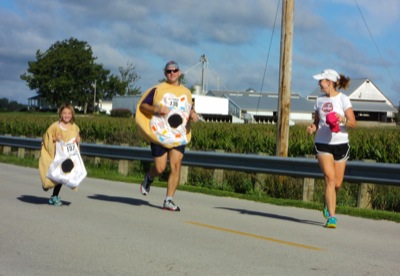 CELINA - Avid runners normally watch their diet and don't stop for anything during a race.
But that strategy will be thrown out the window in October when a unique 5K competition gets under way along the shores of Grand Lake. The Donut Dash - set for Oct. 13 - encourages participants to stop twice along the 3.1-mile course and eat donuts to shave minutes off their finish time.
It's a crazy concept, admits event planner Roger Bowersock, president of nonprofit Rocketship Sports Management of Greenville.
"There are tons of 5K races around, but this event offers something different," he said. "The publicly perceived notion that donuts are unhealthy is in direct contrast to the healthy aspects of doing an athletic event, which is exactly the draw."
Nearly 200 sugar-seeking participants already have signed up - some from as far away as New York, Maryland, Illinois, Michigan and Kentucky, Bowersock said.
For every donut eaten, two minutes will be deducted from a runner's overall time. Awards will be given for "donut adjusted time" in each age group, the most donuts eaten, overall fast times and the prized "golden Donut Dash championship belt" for the best adjusted time.
Rules include a "puke you lose" clause. Feeling a little queasy yet? Bowersock clarified that donut consumption isn't mandatory, and the race is really about having fun.
"While the event is technically a race, very few consider it a serious competition," he states on the company's website. "We doubt the next Olympic champion will have Donut Dash Champion listed on his resume, so eat some donuts and run as fast or slow as you wish."
Because the race theme is new, strategies for winning, or at least finishing with stomach contents intact, are anybody's guess, he said. Fast runners may be challenged by slower ones with big appetites.
"The event changes everyone's typical strategy," he said.
Celina City Mayor Jeff Hazel said the Donut Dash is a good way to turn a healthy sport into a good time for all.
"And I know what the scent of a donut can do," he said with a laugh. "I like any event that brings people into Celina to see what we have to offer. They'll come back because Celina is a great destination."
The Donut Dash is a sister event to Rocketship's annual Tour de Donut bicycle race taking place Sept. 8 in Arcanum. The annual event attracted 1,000 participants from 17 states and Canada last year and has about 1,300 early registrations for this year, Bowersock said.
"Due to the popularity of the cycling event, many have asked us to do a running event, thus the Dash was born," he said.
Organizers hope to continue the running event each year in Celina. That would be just fine with Donne Grube, executive director of the Auglaize-Mercer County Visitors Bureau.
"Special events are the No. 1 reason people travel to Ohio," she said. "The Donut Dash is certainly a fun and unique event that is bound to attract lots of participants. Roger does an excellent job ... and we are very happy to have him utilize the terrific scenery of this area as a backdrop for some of his events."

5K details:
When: 9 a.m. Oct. 13; free 1K for kids 12 and under, 10 a.m.
Where: Start at Lakeshore Park, Celina
Cost: $20 on or before Sept. 12; $25, Sept. 13-Oct. 6; $30, day of race
Register: Online at
www.thedonutdash.com
or print/fill out entry on website and mail to Rocketship Sports Management, 1098 Buckeye Drive, Greenville, OH 45331
For questions or to volunteer: contact Roger Bowersock, 937-417-5772.