Friday, August 24th, 2012
Bulldogs shut out Cavaliers
By Gary R. Rasberry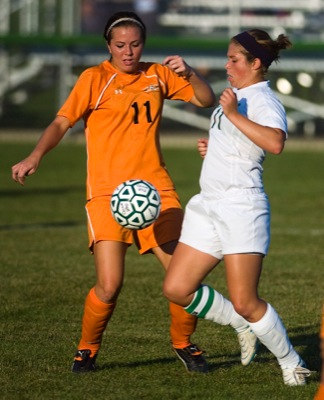 CELINA - After a tough loss on Monday night in the season lidlifter, Celina was looking to rebound quickly on Thursday by hosting Coldwater, Mercer County's other girls' soccer team, in their annual matchup.
Celina scored four goals in the first half and then cruised to a 9-0 win over the Cavaliers at Celina Soccer Stadium as the Bulldogs even their record at 1-1 on the season.
"(Findlay) was solid. A good team," said Celina's coach Cal Freeman, a reference to the Bulldogs' 2-0 loss to the Trojans. "They exposed some things we were doing and hopefully we made some adjustments and corrected those things. Just pleased how the girls played tonight."
Celina clamped down on defense, giving Coldwater (0-2) no opportunities for shots on goal, while the Bulldogs blistered the net on offense by firing off 35 shots.
The Bulldogs' first goal came with 12 minutes gone in the first half when Bekah Carr took a Beth Parker pass and put it past Cavaliers' keeper Krista Wellman. Three minutes later, Katie Stahl drove in and scored on an unassisted goal to make it 2-0. After a spell of 16 minutes with no goals, Taylor Guingrich scored on a Parker assist with 9 1/2 minutes left in the opening half before Stahl notched her second goal of the night off a corner kick from Guingrich to make it 4-0 at halftime.
The score could have been much worse for the Cavaliers if not for the work of Wellman in goal. The Cavaliers' senior made eight saves in the first half and benefited from several Celina shots deflecting off the crossbar.
"She was outstanding tonight," said Cavaliers's coach Scott Brinkman of his keeper, who finished with 14 saves. "As a senior, we look to her for leadership, and she provides leadership for us. She has been the main point of our defense. ... If she doesn't play as well as she did tonight, it's 8 or 9-0 at halftime and (Celina can) name their score in the second half."
Celina added five more goals in the final 40 minutes. Parker earned a goal after assisting on a pair of scores in the first half, with Hillary Heiby, Olivia Powell and Mandy Ebbing each adding one goal. Stahl wrapped up the scoring for the Bulldogs with three minutes to go in the game with her third goal off a rebound.
Freeman gave praise to Coldwater's effort.
"Hats off to Coldwater. Those girls never gave up," said Freeman. "They played the entire (match). They have a lot of great athletes on the field."
"I told the girls they played hard. We didn't give up or quit. When we got down, I thought our character remained the same," said Brinkman. "We really didn't get beat because of stupid mistakes we made. We got beat because (Celina's) a lot better than we are. When that happens, you tell the girls 'Heads' up. Let's go. We're moving on.' "
Celina also posted a shutout in the junior varsity match with a 5-0 triumph.
Both teams are back in action on Saturday. Celina treks to Shelby County to face Lehman while Coldwater heads back to Village Hall Field to host Indian Lake.