Wednesday, August 29th, 2012
Friend recalls a man of courage
Area resident kept in touch with Armstrong over the momentous years
By Shelley Grieshop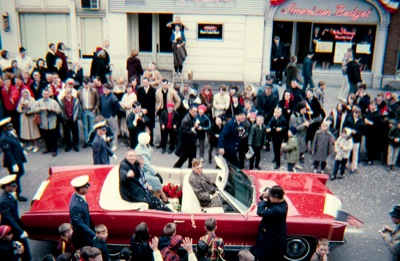 CARTHAGENA - The Rev. John Hoying cherishes the letter he received from his friend the astronaut more than 40 years ago.
Neil Armstrong sent the Catholic priest a handwritten message thanking him for his prayers and support during his mission to become the first man to walk on the moon.
"Thank you so much for your kind letter of congratulations before the flight of Apollo 11," Armstrong wrote on National Aeronautics and Space Administration letterhead months after his return to Earth. "The good wishes from people around the world were a great source of strength to us."
America's hero, who spent his childhood in St. Marys and Wapakoneta, died Saturday at the age of 82 due to complications from cardiovascular procedures. President Obama has ordered flags to fly half-staff on Friday, the day of his burial.
Hoying, now a resident at St. Charles Center in Carthagena, became acquainted with Armstrong in 1963 when he began his first clergy assignment as associate pastor at St. Joseph parish in Wapakoneta.
"I first met him after the Gemini 8 mission (1966)," he said. "He definitely loved to fly. The good God must have put that in his blood."
Hoying, now 77, attended the welcome home banquet for Armstrong at Wapakoneta High School on April 13, 1966, after Gemini's successful space docking mission. On a display board in the front hallway of St. Charles he proudly flaunts the banquet ticket, photos of the parade held that day along Auglaize Street, the personal letter and other memorabilia.
The slides Hoying treasures capture area high school bands, local organizations and dignitaries from Mercer and Auglaize counties who came to Wapakoneta to celebrate Armstrong's success. One of the never-before published slides shows a young and smiling Armstrong riding in a convertible with his former wife, Jan.
Hoying - a former Celina resident and Daily Standard carrier - kept in touch with Armstrong after he left Wapakoneta in 1967 to pastor St. Anthony parish in Falls Church, Va. On July 20, 1969, as the world nervously watched the Apollo 11 lunar module land on the moon, he fittingly toured the Wright Brothers museum in Kitty Hawk, N.C.
A few months later, Hoying met up with Armstrong in Washington, D.C., where he was awarded the Medal of Freedom by the president. A White House photographer took their photo but he never got a copy, he said.
Hoying also has photos from the dedication of the Armstrong Air & Space Museum in Wapakoneta on July 20, 1972. Present during the event were celebrities Bob Hope, Ed McMahon and Phillis Diller, as well as Ohio Gov. James Rhodes and Patricia Nixon, daughter of then President Richard Nixon.
Hoying remains captivated by the bravery shown by moonwalkers Armstrong and fellow astronaut Edwin "Buzz" Aldrin. He wonders how the event changed them spiritually.
"I never knew how anyone could begin to describe what it was like walking on the moon," he said. "Such an awesome experience to be the first person to step foot on another heavenly body."
Hoying said Armstrong wasn't always so brave. "Nurse Kohler," who worked at the former Blume High School in Wapakoneta, used to laugh each time she told the story about Armstrong's reaction to vaccinations.
"Nurse Kohler said Neil would be OK until he stepped up to that needle and then he'd faint every time," Hoying said with a grin. "She thought it was so funny that he had the courage to go to the moon but couldn't handle a little shot."
After 17 years with NASA, Armstrong returned to Ohio to become a professor of aerospace engineering at the University of Cincinnati and stayed active in the space program. While other astronauts enjoyed the public spotlight, Armstrong avoided it as much as possible, shying away from interviews and offers for personal gain.
"He didn't want to benefit himself. He always gave credit for everything to everybody. He was such a humble man," Hoying said.
Hoying said he will always respect the drive that led the small-town boy to do such big things for his country.
"Long before he became an astronaut, people in Wapakoneta talked about how he furiously peddled his bike to the airport to take flying lessons," he said. "He had that drive, that trust, and he showed the world that we can do whatever we set our minds to do."

Wink at the Moon:
What: A tribute to Neil Armstrong
When: Tonight, 8:30 p.m.
Where: Armstrong Air & Space Museum, Wapakoneta
Details: An outdoor service with speakers will be held, followed by an opportunity to fulfill the wishes of Neil Armstrong's family to think of him and "give him a wink." The public is asked to bring lawn chairs.
The museum will offer free admission today until 8 p.m. Hours the rest of the week are being extended until 7 p.m. The museum opens at 9:30 a.m.