Tuesday, September 4th, 2012
No injuries in fiery car-bus accident
Car gets stuck under bus, two students, drivers escape
By Margie Wuebker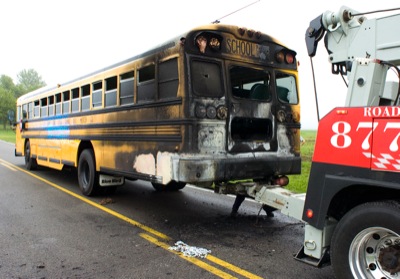 ST. HENRY - No injuries were reported when a car collided with a St. Henry school bus at 7 a.m. today along Fort Recovery-Minster Road.
Bus driver Martha "Marty" Schmackers, 59, of St. Henry, had picked up two students on her second stop of the morning when an eastbound four-door Pontiac driven by Chelsey Leuthold, 20, of Fort Recovery, ran into the rear bumper and became lodged beneath the bus frame. The car burst into flames within seconds, according to a Mercer County Sheriff's Office report.
Warning lights on the bus reportedly were operating at the time due to an impending stop 10 to 15 feet away.
Schmackers immediately got the students off the bus and into a nearby field before going to check on Leuthold, who escaped the burning car. Mothers standing with their children at nearby stops called 911 and alerted school officials.
Several rescue squads initially were called to the scene but were not needed. St. Henry firefighters doused the flames while Mercer County Emergency Response Volunteers handled traffic control at state Route 118 and Fleetfoot Road.
St. Henry Superintendent Rod Moorman said he saw flames shooting above the top of the bus when he arrived at the scene. He already had been told the driver and students were safe.
"Marty did everything she has been trained to do," Moorman said. "She got the students off quickly and to a safe location. Thank God the bus was not full at the time or evacuation would have taken longer."
A second bus was dispatched to complete Schmackers' route.
"The car was banged up, and the back of the bus was charred," the superintendent said. "The heat melted the lights. We are so fortunate no one was hurt."
Bus drivers and students practiced evacuation techniques just last week. Moorman believes such practices are important because an accident like the one this morning occurs unexpectedly.
Both heavily damaged vehicles were towed from the scene. Leuthold was cited for an assured clear distance violation. Weather conditions were not a factor, according to the report.