Tuesday, September 4th, 2012
Panthers edge Indians in title match
St. Marys Volleyball Invitational
By Robb Hemmelgarn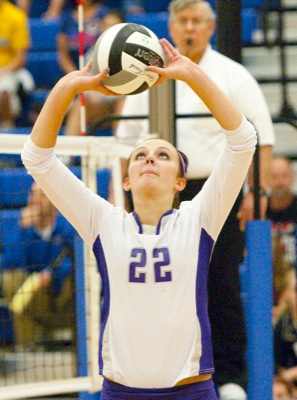 ST. MARYS - With four conferences represented in this year's St. Marys Volleyball Invitational, it was the Midwest Athletic Conference that reigned supreme when the dust settled on Saturday.
Fort Recovery and Parkway fought for the championship in the six-team event and the Panthers capped an unbeaten day with a 22-25, 25-18 and 25-20 victory over the Indians.
The Panthers advanced to the title game with a pair of two-game decisions over Spencerville and Old Fort. Fort Recovery won its opening contest in two games over Allen East, and despite losing to St. Marys, the Indians advanced to the finals by virtue of a tie-breaker. Following their opening loss to Allen East, the host Roughriders and head coach Tricia Rosenbeck rebounded to win their final two matches over Fort Recovery and Old Fort to claim fifth-place overall.
In the title match, the Indians sprinted out to a 9-0 lead in the first game thanks to strong serving by Cassidy Rammel. Although the Panthers never strung together any extended scoring spurts, they methodically clawed their way back into contention with heavy hits from the front row as well as timely serving from sophomore Whitney Rollins and senior Morgan Steinbrunner. The two teams battled until Parkway eventually knotted the game three times late at 20-20, 21-21 and 22-22. However, Parkway just couldn't dig out completely from the early hole.
A hitting error by the Black and Gold gave Fort Recovery a 23-22 lead and Kelsey Fiely added another service point to put her team in front 24-22. A floor-shaking kill by Raegen Bransteter pulled Parkway to within a point, but Fort Recovery claimed victory a few moments later when Haley Knapke's spike bounced off the Panthers' defense and out of bounds.
"We played very inconsistent at times today, especially in the first and third games," said Parkway's head coach Jeff Marbaugh. "Everything turned out okay, but we sure made it interesting at times."
It was a back-and-forth contest in the beginning of game two before another slam by Bransteter broke a 10-10 tie, and the Panthers rolled from there. Three straight points by Rollins pushed Parkway's advantage to 18-13 and Fort Recovery couldn't pull any closer than four points the rest of the way as Parkway evened the contest at one game apiece with the 25-18 victory.
In the deciding meeting, neither team built much momentum early on until Fort Recovery built its command to as many as five points at 11-6. However, the Panthers rallied by scoring six of the game's next seven points to knot the fight at 12-12.
Fort Recovery then charged in front 18-13 and the Panthers trailed 19-16 when Steinbrunner stepped in to serve. She knocked down the first two points before a powerful hit by Bransteter tied the score at 19-19. With the momentum clearly in Parkway's favor, Steinbrunner continued her remarkable turn behind the line, which didn't stop until her team was in front 22-20.
Strong net play from Bransteter yielded two more points for the Panthers before a serve from Marissa Hunter ricocheted off Fort Recovery's defense to secure the 25-20 triumph in the rubber game.
"After that second game, we felt like we were hitting our groove a little more," Marbaugh explained. "We came out expecting to continue to roll in the third game, but it took a little bit for us to get on track. We managed to get good kills today when we really needed them, and each of the girls did some good things out there."
"We finished 1-2 overall today, but I am happy with how the girls battled," commented Fort Recovery's head coach Kylie Huelsman. "Hopefully we can continue to improve over the course of the coming weeks and play like we did at times today more consistently."